Star Wars Bits: Disney Infinity, Force Awakens LEGO, Rogue One Science, Clone Wars Easter Eggs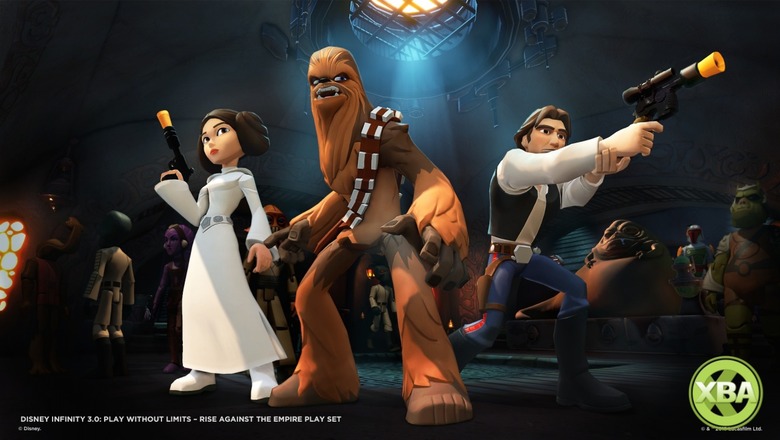 If you're into toys and video games, this is a particularly solid edition of Star Wars Bits. The rest is pretty good too. Below, read about the following:
Neil deGrasse Tyson agrees to help on Star Wars Anthology: Rogue One.
Amazing images from the original trilogy section of Disney Infinity 3.0 hit the web.
Geonosis and Tatooine in Disney Infinity 3.0 are revealed.
Read an interview with the writer of Star Wars #6.
Check out some Indiana Jones easter eggs in The Clone Wars.
Find out the names and sizes of all the Force Awakens LEGO sets.
What went into bringing Ashoka back for Star Wars Rebels?
The company which designed BB-8 is expanding.
Find out a few more details on Star Wars: Uprising.
See what First Order bed sheets look like, licensed from The Force Awakens.
Could we see Ewoks in Star Wars: The Force Awakens?
Earlier this week, Star Wars Anthology: Rogue One writer Chris Weitz asked Neil deGrasse Tyson for help with a question regarding space. Well, thanks to social media, he got a response.
@chrisweitz Happy to assist artistic creativity. Especially when the cosmos serves as the artist's muse. What's the question?

— Neil deGrasse Tyson (@neiltyson) June 3, 2015
We've already seen images from the prequel story that you'll be able to play in Disney Infinity 3.0 featuring Star Wars, and now we have images from the original trilogy story called Rise Against the Empire via XBox Achievements. Head there to see them all but here are a few of our favorites.
How do the developers go about bringing iconic Star Wars characters from the big screen to Disney Infinity? ComicBook has an in-depth interview about transitioning Darth Maul to the game.
Even more Disney Infinity! The Hollywood Reporter has the first images of Geonosis and Tatooine in the game. Not super spectacular, but cool none the less.
Star Wars #6 will probably best be remembered for this massive reveal (spoilers at the link) but there are some other massive moments in the comic, including a moment Star Wars fans have only ever dreamed of [More Spoilers]- the moment Darth Vader finds out the name of the person who blew up the Death Star. [End Spoilers] StarWars.com interviews writer Jason Aaron and he talked about that moment and more.
HitFix has a really cool article listing a few Indiana Jones easter eggs that appeared in Star Wars: The Clone Wars. This is just one of them below, see the rest at the link.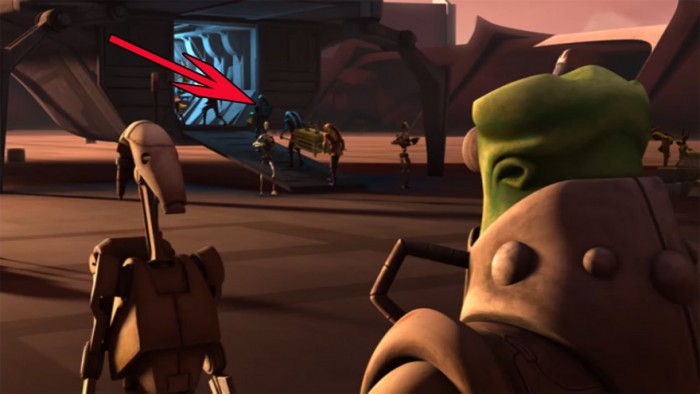 We've seen lots of odd numbers and prices concerning the Star Wars: The Force Awakens LEGO sets but now we have the full names of the releases. A site called Hoth Bricks has the names of all six sets, from Rey's Speeder, Poe's X-Wing and even the Millennium Falcon. There's a minor spoiler or two in there but visit the link for the names, sizes and prices.
The official Star Wars YouTube put up this video about bringing back Ashoka from The Clone Wars to Rebels.
Sphero, the company which designed BB-8 with the support of Disney CEO Bob Iger, has just received $45 million in funding. Part of which is from Disney. Read more about it at TechCrunch.
Thursday, we got our first look at Star Wars Uprising, the brand new mobile game which takes place after Return of the Jedi. You can see the trailer and stuff here but StarWars7News has more information on it, including some character names and more.
Twitter user @socalrider99 sent this tweet to MakingStarWars, which is our first look at some evil bed sheets.
@CPThrio @MakingStarWars This new? pic.twitter.com/XkMM7cxmwm

— Victor V (@socalrider99) June 3, 2015
We know J.J. Abrams has thought of killing things fans don't like about Star Wars. He joked about putting the bones of Jar Jar Binks somewhere in The Force Awakens. And while that's not happening, Making Star Wars has some intersting, albeit not too convincing evidence that we could see Ewoks in the film.
First up, is a press packet for The Force Awakens which lists Warwick Davis as "Wicket." However, that could just be them going with his most famous role. The second is a mention of concept art depicting the characters when someone or something goes to Endor to get Darth Vader's mask (not a spoiler, it's in the trailer.) That second instance sounds more plausible than Wicket himself, but who knows?