Photo: Bryan Singer Shows Off The New Cerebro Set From 'X-Men: Apocalypse'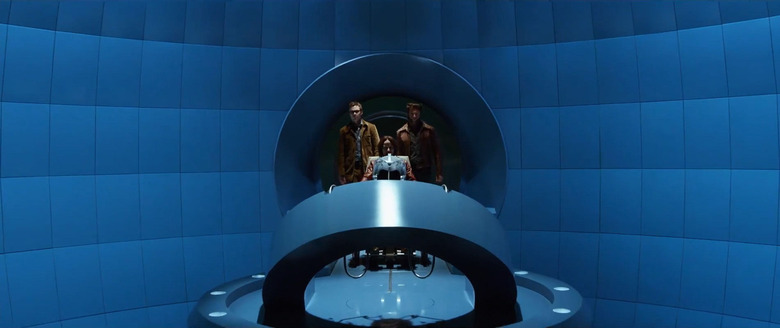 Along with all your favorite mutants, X-Men: Apocalypse will also bring back your favorite mutant-detecting device. Director Bryan Singer has offered the first look at the newly completed Cerebro set, looking shiny and new and ready for use. See the X-Men: Apocalypse Cerebro photo after the jump. 
Singer took to Instagram to share the X-Men Apocalypse Cerebro set photo, as he has so many other set photos.
Cerebro, you'll recall, is the machine Charles Xavier uses to amplify his telepathic abilities. He uses it to track down both humans and mutants. It can be dangerous, as we've seen in other installments — Magneto tried to kill non-mutant people with it in X2, and Jean Grey was weakened after trying to use it in the first X-Men.
Singer had previously shared photos of the Cerebro set in progress.
The new Cerebro set looks more or less like the Cerebro we've seen in other films, namely the original trilogy and X-Men: Days of Future Past. Some earlier concept art suggested that the headpiece, at least, might get a redesign, but from this far away it's hard to make out such small details.
While Cerebro itself might not have changed that much, the guy inside is definitely getting a makeover. As previously revealed, X-Men: Apocalypse is the movie where James McAvoy finally loses his shampoo-commercial-worthy locks, and debuts Professor X's signature chrome dome look from the comics.
Besides McAvoy, X-Men: Apocalypse also brings back Michael Fassbender (Erik Lensherr / Magneto), Jennifer Lawrence (Raven / Mystique), Nicholas Hoult (Hank McCoy / Beast), Evan Peters (Peter / Quicksilver), Lucas Till (Alex Summers / Havok), and Rose Byrne (Moira MacTaggert) from earlier films.
Newcomers to the franchise will include Sophie Turner (Jean Grey), Tye Sheridan (Scott Summers / Cyclops), Alexandra Shipp (Ororo Munroe / Storm), Kodi Smit-McPhee (Kurt Wagner / Nightcrawler), Ben Hardy (Warren Worthington III / Angel), Olivia Munn (Betsy Braddock / Psylocke), Lana Condor (Jubilation Lee / Jubilee), and Oscar Isaac (En Sabah Nur / Apocalypse).
X-Men: Apocalypse arrives in theaters May 27, 2016.