'7 Days In Hell' Teaser Trailer: Jon Snow Battles Andy Samberg For HBO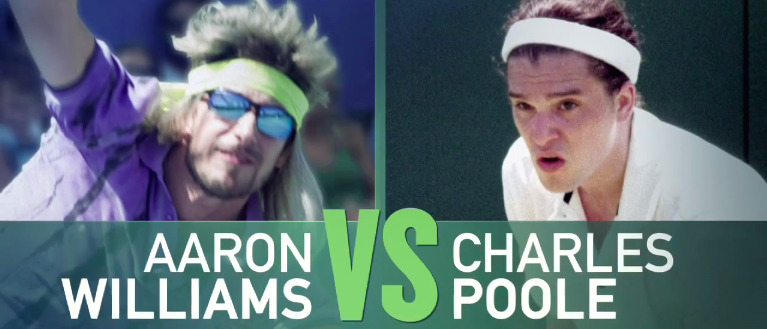 Jon Snow isn't exactly known for his lively sense of humor, but actor Kit Harington clearly doesn't mind getting in touch with his silly side from time to time. Even as Game of Thrones races toward another (we assume) grim finale, HBO has released the first funny promo for Harington's other HBO project, 7 Days in Hell.
The Christopher Guest-style mockumentary centers on a fictional tennis match that goes down in history as the longest ever. Harington and Andy Samberg play the exhausted rivals. Watch the 7 Days in Hell teaser trailer after the jump. 
HBO unveiled the first 7 Days of Hell teaser trailer on YouTube.
Samberg is Aaron Williams, a stereotypical "bad boy" type returning from early retirement. Harington is Charles Poole, who's brilliant on the court but shockingly stupid everywhere else. The two face off in a match that, as indicated by the title, carries on for seven grueling days. (For comparison, the longest real-life match in tennis history lasted three days.)
Other cast members include Mary Steenburgen as Charles' domineering mother, Lena Dunham as a Jordache executive, Michael Sheen as a sleazy TV host, Karen Gillan as a supermodel, and Fred Armisen and Will Forte as tennis historians. Real-life tennis stars like Serena Williams, John McEnroe, and Chris Evert weigh in on the supposedly legendary match as well.
7 Days in Hell is directed by Jake Szymanski. He's known for his work on Funny or Die and SNL Digital Shorts, and about to make his feature debut with the comedy Mike and Dave Need Wedding Dates. (7 Days in Hell falls somewhere in between, clocking in at around 50 minutes.) Murray Miller (Girls, American Dad!, King of the Hill) wrote the script.7 Days in Hell made its world premiere earlier this year at SXSW, earning mostly strong reviews. It makes its HBO debut on July 11.