Will Ferrell And Kristen Wiig's Lifetime Movie Sets A Premiere Date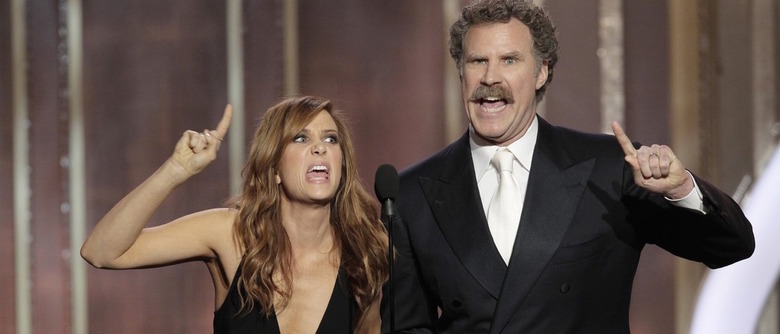 We never know quite what's going to happen when Kristen Wiig and Will Ferrell team up, but it's usually safe to assume we're in for something hilariously bizarre. The pair's newest collaboration is the Lifetime movie A Deadly Adoption.
Based on the cheesy tagline ("The birth of a plan gone wrong"), it sounds like everything you'd expect a Will Ferrell Kristen Wiig Lifetime movie to be. Get all the details, and see the first billboard, after the jump.
News of the Will Ferrell Kristen Wiig Lifetime movie first made the rounds in April. But Ferrell was none too happy about having the top-secret project revealed, and followed up with a statement claiming the film had been cancelled:
We are deeply disappointed that our planned top secret project was made public. Kristen and I have decided it is in the best interest for everyone to forego the project entirely, and we thank Lifetime and all the people who were ready to help us make this film.
However, a billboard that recently went up on Hollywood Boulevard indicates the film is alive and well after all:
A Deadly Adoption, everyone. pic.twitter.com/hsQ5Oom5av

— Rebecca Ford (@Beccamford) June 3, 2015
Wiig and Ferrell will play a couple who take in a pregnant woman (Jessica Lowndes, of 90210 reboot fame) with the intention of adopting her child once it's born. Of course, this being a Lifetime movie, things soon go horribly, dramatically awry.
A Deadly Adoption comes as part of Lifetime's 25th anniversary celebration of their TV movie franchise. THR clarifies that the air date is Saturday, June 20, even though the billboard above says Sunday.
Ferrell is apparently a fan of Lifetime movies, and was eager to try making one himself. A Deadly Adoption is billed as a "high-stakes dramatic thriller" that winks at the campy appeal of the Lifetime movie subgenre.
Andrew Steele, who scripted Wiig and Ferrell's IFC miniseries The Spoils of Babylon, wrote the screenplay. Rachel Lee Goldenberg directed. She's a Funny or Die and The Asylum vet who previously helmed the Lifetime movies Escape From Polygamy and Love at the Christmas Table.