'Suffragette' Trailer: Carey Mulligan And Meryl Streep Demand The Right To Vote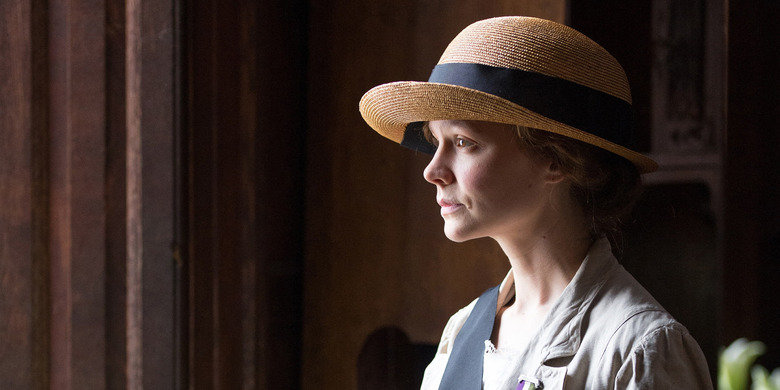 We got a brief teaser for Suffragette back in April thanks to the U.K. election. But today we have a much better look at what may very well be the source of Meryl Streep's next Oscar nomination.
Directed by Sarah Gavron, the historical drama chronicles the fight for women's suffrage in 1910s England, led by activists like Emmeline Pankhurst (Streep). But the real center of this particular story is a foot soldier in the movement, a working class woman named Maud played by Carey Mulligan. Watch the new Suffragette trailer after the jump.
Here's the Suffragette U.S. trailer:
And the Suffragette U.K. trailer:
What's most intriguing about these trailers is their willingness to highlight the radicalism of its heroes. These women are willing to resort to vandalism and violence because, Maud says, "war's the only language men listen to."
In that respect it differs from, say, Selma, where the heroes were the targets of violence instead of the perpetrators of it. But it's like Selma in that it refuses to gloss over the ugly business of making history. This doesn't seem to be the kind of movie that serves up easy inspiration or self-congratulatory back-patting.
Suffragette opens October 23 in the U.S. and October 30 in the U.K.
SUFFRAGETTE is a thrilling drama that tracks the story of the foot soldiers of the early feminist movement, women who were forced underground to pursue a dangerous game of cat and mouse with an increasingly brutal State. These women were not primarily from the genteel educated classes, they were working women who had seen peaceful protest achieve nothing. Radicalized and turning to violence as the only route to change, they were willing to lose everything in their fight for equality – their jobs, their homes, their children and their lives. MAUD (Carey Mulligan) was one such foot soldier. The story of her fight for dignity is as gripping and visceral as any thriller, it is also heart-breaking and inspirational.