Disney Plots Live-Action Remake Of 'Fantasia' Sequence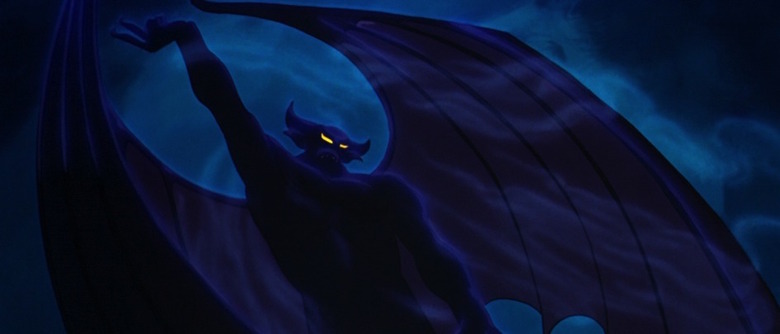 When it comes to Disney's apparent determination to live-action-remake every story it's ever animated, not even Fantasia is exempt. Disney is developing a feature film based on the Night on Bald Mountain closing sequence from the 1940 musical anthology. Hit the jump for all the details on the Fantasia live action remake. 
Matt Sazama and Burk Sharpless will write the screenplay and executive produce. The project is still in the early stages, and doesn't yet have a director or stars. THR, which broke news of the Fantasia live action remake, likens the new movie to Disney's recent Sleeping Beauty retelling Maleficent.
The original Fantasia, released in 1940, consisted of eight animated sequences set to classical music. The last was based on "Night on Bald Mountain" by Modest Mussorgsky and "Ave Maria" by Franz Schubert, as arranged by Leopold Stokowski, and was animated by Vadimir Tytla.
The scene follows the demon Chernabog, who summons ghosts and monsters in the dead of the night. The undead spirits dance and fly and generally wreak havoc through the countryside, until daybreak forces them back into hiding.
Sazama and Sharpless have some experience with dark fantasy tales. They scripted the vampire origin story Dracula Untold, which brought in $215 million for Universal last fall. They also wrote the upcoming The Last Witch Hunter, which stars Vin Diesel as the title character, and Gods of Egypt, which Alex Proyas is directing.
Disney has found great success mining its animated vault for source material. Alice in Wonderland, Maleficent, and Cinderella were all box-office hits. A live-action remake of The Jungle Book and an Alice sequel are coming next year, and a live-action remake of Beauty and the Beast lands a year after that. Live-action remakes of Mulan, Dumbo, Winnie the Pooh, and Pinocchio are also in the works, as is a Tinker Bell spinoff.