'John Wick 2' Shoots This Fall [Updated]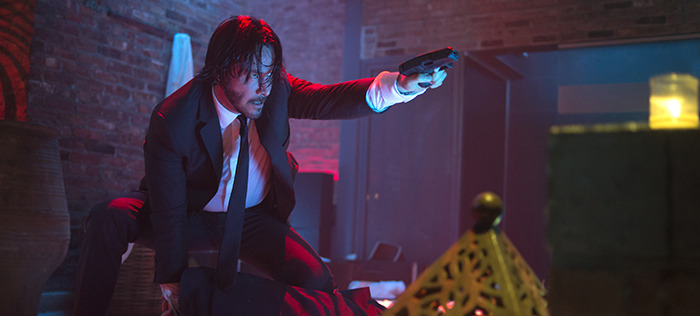 Keanu Reeves is about to put on a sharp suit once again for the sequel to 2014 the sleeper success John Wick, in which Reeves played a back-from-retirement assassin on a mission of personal vengeance.
Chad Stahelski is back to direct and presumably oversee the film's action scenes — a big part of the popularity of John Wick in the first place was the great action and stunt work put together by Leitch and Stahelski, who spent much of their career in the stunt realm.
[Update: While we originally reported that David Leitch would co-direct with Stahelski, following the way in which the two made the first film, Collider now reports that Stahelski will direct John Wick 2 solo. Leitch will be credited as an exec producer.]
Now it looks like the John Wick 2 shoot date is set for this fall, as announced by production company Thunder Road.
A press release from Thunder Road, announcing the upcoming film Outlaws Inc., mentions that John Wick 2 will shoot this fall. We don't know much about the rest of the cast and crew, but screenwriter Derek Kolstad is along for the ride.
All we have for a plot is this excessively brief, almost redundant description:
In the follow up to last year's adrenaline-fueled revenge and redemption thriller, legendary hit man John Wick is back.
Earlier this year, the directorial team said,
We're in development right now. We have ideas for days and without blinking twice we know we can outdo the action from the original. It's the matter of story and how much you like the character. That's always the most important. If there's great action but you have a character that no one likes and doesn't have charisma you're not going to watch it. Look at any great action star, whether it's Harrison Ford or Liam Neeson or Robert Downey Jr., pick a name, you love the guy first. Good action, bad action, you just love them in action. So we want to make sure we have a story and a character that everybody loves and then we'll dress it with action that we promise will be awesome.
We're still waiting on a John Wick 2 release date, but the film will go out via Summit Entertainment, owned by Lionsgate, with Basil Iwanyk of Thunder Road, who also produced the first film, producing once again.