Disney Reveals Playmation, But What Is It?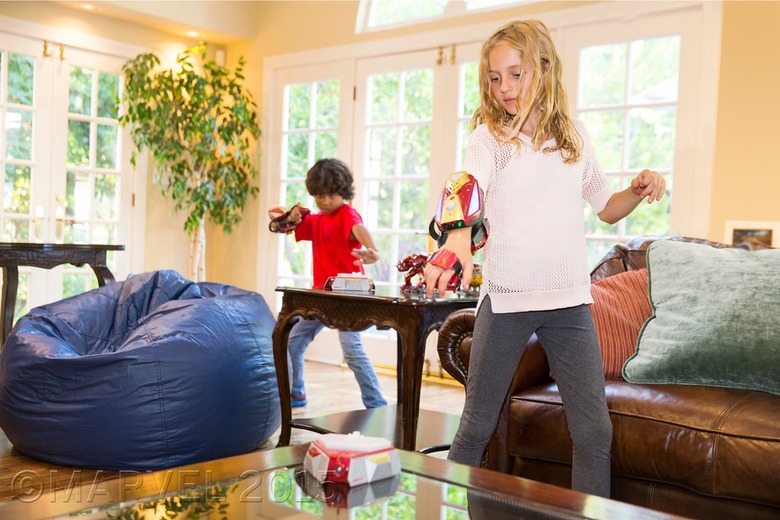 Disney Consumer Products invited me to a top secret event this morning at MILK Studios in Hollywood to announce what they were promising to be "the future of PLAY". The subject of the secret announcement could be the hottest toy of Christmas 2015 – Playmation "powered by Disney". We posted the Disney Playmation teaser trailer this morning, but that probably left a lot of you wondering exactly what this new product is. After the jump I'll tell you all about Disney's attempt to redesign the toy, and what that actually is. We also have images and more.

So what is Playmation? Its Disney's attempt to tap into the active play market. Tom Staggs, chief operating officer of the Walt Disney Company, calls the product "play for the 21st century". This new system is "physical play for a digital generation", created by Disney through their partnership with Hasbro.
"Playmation is a unique system of connected toys and wearables that combine the latest technology and Disney storytelling to inspire kids to run around and play using their imaginations."
But what does that mean? Keep reading... The product tagline is "Imagination made real" and the initial launch will let kids enter the Marvel universe. Kids will be sent on a series of adventures to help The Avengers battle and his new army of villains which includes Iron Skull, Maddock and Loki.
After kids strap the repulser gear on their arm they will be immediately contacted by Jarvis and sent on a mission which will require them to run around the room, hide behind furniture, dodge attacks, jump over obstacles, shoot at enemies and more. The repulser arm connects to the power activators and other toys in the system, bringing all of the toys into the story. And everything connects in the cloud to The Avengers Net app, which will help you find new missions, new heroes and villains and track your adventures. It seems like there is a big play for additional missions and downloadable premium content, because why not.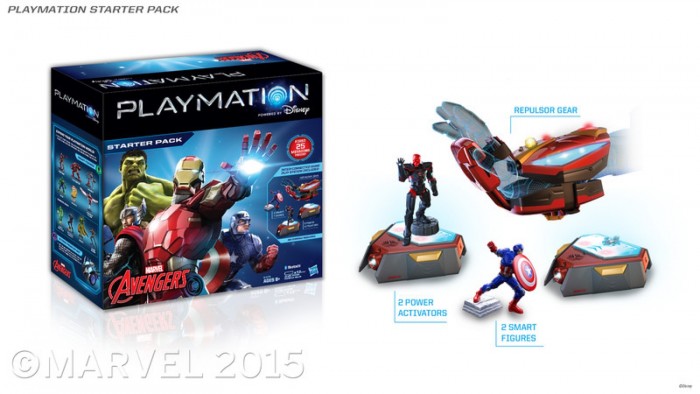 The Playmation experience has an expensive entry price point, $119.99 for the starter pack, which includes Iron Man's repulser gear, two power activators and two figures (Iron Skull and Captain America).
Here is a look at some of the toys in The Avengers Playmation toy line:
The hulk smash hands are used for more of a melee-style attack which the Iron Man repulser tech is used for ranged combat. You might notice from the photos above that some of the characters are a bit more of a deep dive into marvel comics than your traditional towline. The system will have 16 figures at launch, and that even includes a couple characters exclusive to this story. One of the coolest toys in the Playmation line is the Prowler Bot ($40 msrp), a robot toy which you must destroy while it moves around the room. The regular smart figures will cost $14.99 msrp.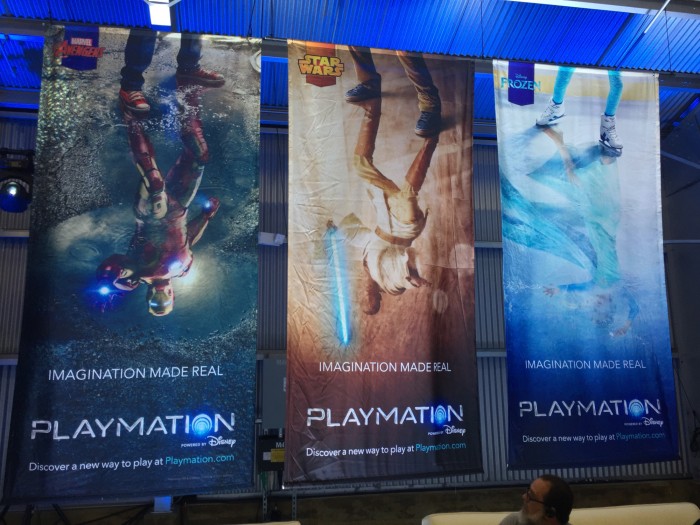 Playmation will be available for preorder on July 7th for in store and delivery in October 2015. A second wave of items will be released in November, just in time for Christmas. Disney plans to extend the Playmation experience to Star Wars by Holiday 2016 and Frozen in 2017.
I got a chance to experience Playmation in action, grouped with a team of other journalists. You can watch video from that demo below:
My initial impression is that this toy might be one of those things that looks really cool in commercials and doesn't quite live up to the promise or idea at its core. I'm not sure thats the case as I didn't get a lot of time with it. I can say that they showed video footage of test groups of kids playing with it and they all seemed to love the new experience. And if it works, its a Trojan horse of a toy, tricking kids into being active by giving them a fun experience while doing so.
Unlike Disney Infinity which has attracted a wide age range, Playmation is definitely a kids toy. But I could see many adults playing with their kids with it. I personally think I'd enjoy the cooperative and competitive modes which allow you to team up or fight against your friends in a more Laser Tag style of game. I think that could be really fun, especially when immersed in a story being directed by Jarvis to complete different tasks.
I've included the full press release below:
DISNEY ANNOUNCES PLAYMATION – THE NEXT STEP IN THE EVOLUTION OF PLAY
Connected toys and wearable technology come together to put kids at the center of the world's greatest stories from Disney, Marvel and Star Wars.
Glendale, Calif. (June 2, 2015) — Today, Disney Consumer Products (DCP) introduced the world to Playmation – the next step in the evolution of play, where digital gets physical and imagination becomes real. The groundbreaking system of toys and wearables uses smart technology to inspire kids to run around and use their imaginations, as they become the hero or heroine of stories from across The Walt Disney Company.
"Innovation and creativity are the driving forces behind Disney, and our goal is to inspire children to unleash the power of their imaginations through the stories we tell and the experiences we create. With Playmation, we're taking the next step in that tradition – bringing the worlds of play, storytelling, and technology together – in a new and very exciting way," said Leslie Ferraro, president of Disney Consumer Products.
She continued: "Playmation takes the best the digital world has to offer and uses it to create supercharged, real world play. This is play updated for today's kids – bringing their imaginations to life as they go on active adventures alongside their favorite characters."
Dreamed up by a team of technologists, Imagineers and storytellers from across The Walt Disney Company, Playmation is the culmination of extensive research into the world of play. A new third party study commissioned by Disney[1] reveals that parents feel nostalgia for the way they used to play growing up and that they also have a desire to keep their kids active. The study also found that children enjoy being active—yet at the same time, they have a growing appetite for technology-infused products.
The online study of 2,000 families across the country shows that while almost all parents believe in the power of active and creative play, they believe technology is also an important part of growing up today. In fact, 9 out of 10 parents are open to new technology that could play a role in keeping their child active.
"The study highlights a major opportunity to meet the needs of both parents and kids with a new way to play," said Kareem Daniel, Senior Vice President, Strategy and Business Development. "Playmation uses technology to make active, physical play even more fun. It puts kids at the center of our stories in a way we've never been able to before."
Playmation also marks a new chapter in Disney Consumer Products' long-term partnership with Hasbro. DCP and Hasbro collaborated on physical product design and manufacturing of Playmation. Hasbro's record of innovation and consumer insights make them the perfect partner to ensure that Playmation is a truly ground-breaking play experience.
"This is classic play for the millennial generation," said Jim Silver, editor in chief and CEO of TTPM. "Playmation takes the role play category to a new level of engagement with their breakthrough interactive play. It is the entry point into a new category of toys that bring digital experiences into the real world. With Playmation, Disney Consumer Products is going to raise the bar in the world of play."
Playmation Marvel's Avengers is the first in a series of systems in development around Walt Disney Company franchises, and will hit shelves this October. At launch, the Playmation Marvel's Avengers Starter Pack will include five connected toys: one piece of Avenger Gear (Repulsor), two Power Activators and two Smart Figures – a Super Hero (Captain America) and a Super Villain (Iron Skull). Getting started is easy, strap the high-tech Repulsor Gear onto your arm (it fits adults, too!) and listen closely to JARVIS as he takes you through the tutorial on how to control your new Gear, inspired by Iron Man technology. Other Playmation Marvel's Avengers connected toys that work with the Starter Pack will also be available separately for purchase at launch, with more on the way.
Also available at launch, is the AvengersNet app where you can register your Avenger Gear to see progress, explore additional locations and characters, and get access to new missions. New recruits to the Avengers can fight Marvel Super Villains including Ultron, Iron Skull, Loki, or join fellow Avengers Super Heroes like Black Widow, Falcon and more as they battle to save the Earth by running, jumping, ducking and dodging – whatever each challenge requires.
"With Playmation Marvel's Avengers, the very best of Marvel storytelling is infused into every aspect of the system to further spark imaginative, active play," said Joe Quesada, Chief Creative Officer, Marvel. "Playmation offers kids a dynamic way to interact with their favorite Super Heroes – I wish it was around when I was a kid!"
Playmation Marvel's Avengers uses familiar technologies including smart toys, wearables, wireless technology, motion sensors and more, but applies them in ways that are completely new to create an experience that's never been possible before. The Repulsor Gear connects with the Power Activators and Smart Figures to take you on a variety of adventures through locations around the Marvel Universe, from the Avengers Lab in New York to the jungles of Wakanda. Playmation is purposely not tethered to an Internet connection so players can run around and explore each adventure from anywhere they want – a bedroom, living room or yard. With multiplayer modes, recruits can sync their Avenger Gear to tackle missions and combat arenas together, or face off in competitive play.
The Playmation Marvel's Avengers Starter Packwill have a suggested retail price of $119.99 and will launch in October 2015 in the United States and Canada at mass and specialty retailers, select Disney Store locations and DisneyStore.com, and will be available for pre-order starting July 7.
Star Wars and Disney Frozen systems are currently in development for 2016 and 2017, respectively. Each will use a range of technologies to create a system based on the different ways that kids play and experience their favorite stories and characters from that franchise.