Rumor: Richard Linklater's New Film Gets A New Van Halen-Inspired Title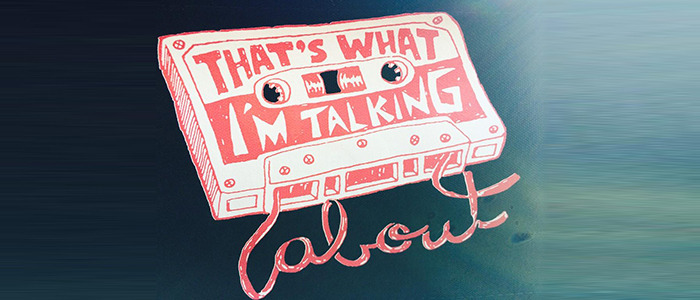 Richard Linklater shot his next film earlier this year. Originally called That's What I'm Talking About — that was the film's logo, via sales art, above – the movie now reportedly has a new name. (So that sales art is out of date; we're giving it one last run now.)
Given that Linklater's films often use contemporary rock tunes as a major part of their makeup, it shouldn't be too much of a surprise to find that the new title is borrowed from a Van Halen song. We've got that info and some reported soundtrack info for the film below.
The film acts as a "spiritual sequel" to Dazed & Confused, following the college experience of a baseball player and other people around him. Now it will be called Everybody Wants Some, a title borrowed from a track on Van Halen's 1980 LP 'Women and Children First.' (Embedded below.)
The Film Stage reports a new synopsis for the film, which comes from materials out of test screenings:
It's the last weekend of freedom before college starts and Everybody Wants Some. A "spiritual sequel" to Dazed and Confused and set in the world of 1980 college life, Everybody Wants Some is a comedy that follows a group of friends as they navigate their way through the freedoms and responsibilities of unsupervised adulthood. Get ready for the best weekend ever.
The site also reports from test screening reports that the film's soundtrack features music from Talking Heads, Blondie, Pat Benatar, and Devo, among others. And that's interesting, because in 1980 the music scenes represented by Van Halen, the arena rock gods, and new wave vanguards like Talking Heads and Blondie were not quite as far apart as they had been a few years ago, but there was definitely a split.
Linklater talked to Marc Maron about that split earlier this year in an appearance on the WTF podcast:
You show up at college and you're listening to Van Halen, but you go to discos to chase women, but then you end up at a punk club or a country bar because Urban Cowboy was big at that time. All that stuff was on the table, so it's an interesting cultural moment because they go to an art party and they're listening to the Talking Heads, so it's a cultural moment where I'm like, 'Who am I?' Am I punk? Am I new wave? Am I heavy metal?
Everybody Wants Some stars Tyler Hoechlin, Wyatt Russell, Ryan Guzman, Zoey Deutch, Will Brittain, Glen Powell, and Zoey Deutch.