Cameron Crowe Has Thought About Making A 'Say Anything' Sequel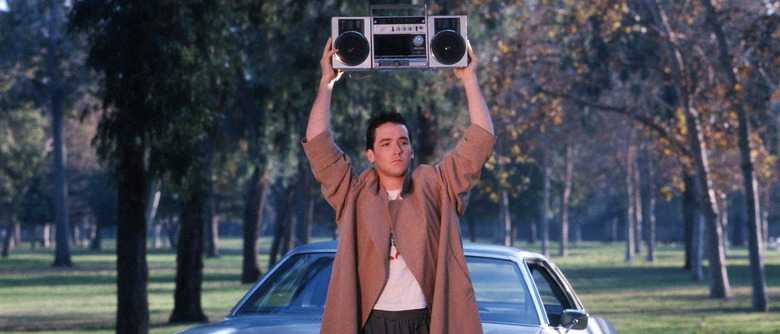 Cameron Crowe's career has stumbled a bit as of late, but nothing will take away the fact that he wrote and directed Say Anything..., still one of the best loved movie romances of all time. 26 years later, fans are still curious about the fates of Lloyd Dobler and Diane Court — and it sounds like Crowe is, too.
In a new interview, Crowe discussed the possibility of a Say Anything 2, gushing that he "really, really love[s] writing for John Cusack." Read Crowe's thoughts on a Say Anything sequel after the jump. 
Speaking to Film School Rejects, Crowe admitted he's considered making a Say Anything sequel:
I've even thought about revisiting Lloyd Dobler, to write about a stage in life where you're looking at parenthood, wondering about your choices, and reconsidering some of the choices you made in past relationships.
However, Crowe doesn't necessarily have a direct follow-up in mind:
I don't know if it would be a straight sequel. I just have ideas... It comes down to a few basic things. I really, really love writing for John Cusack. We have similarities as guys that really benefits him being a mouthpiece for stuff we both want to say. I haven't quite figured it out. I only mentioned it to him once. In the spirit of the Truffaut movies, where Antoine Doinel would comeback and be in a different context, I really did think that Lloyd could be worth revisiting in maybe a completely different context. So, I don't know. I guess it would be a spiritual followup. I don't know how strict of a sequel it would be. I don't know which characters would appear or reappear. It just feels like a character I could still write for.
This isn't the first time Crowe has talked up the possibility of revisiting Say Anything. In 2011 he mused that there "might be another chapter" to the story, before backtracking and calling Say Anything 2 "a pipe dream" while emphasizing that no actual plans were in place.
For what it's worth, though, Cusack has said he'd be into it. And just last year, NBC was planning a TV sequel that would've picked up with Lloyd and Diane ten years after the events of the film. (That one was scrapped thanks to Crowe and Cusack's strenuous objections.) If Crowe ever decides to proceed with a Say Anything sequel, he probably won't have any trouble drumming up interest.