Vincent Chase: An Insider's Guide To His Hollywood Superstardom (An 'Entourage' History)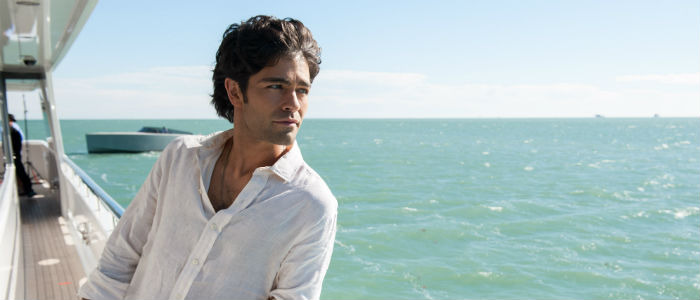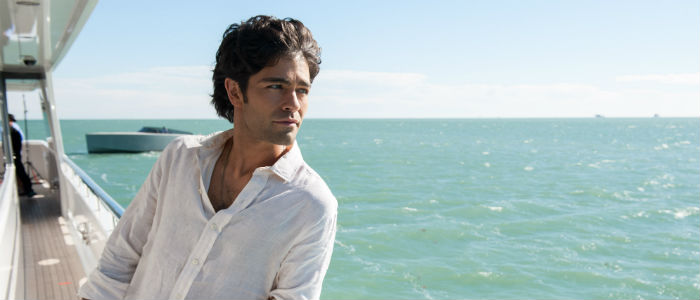 The career of mega-star actor Vincent Chase can be traced back to a single word: "Mentos." Mega-agent turned studio head Ari Gold saw the fresh-faced young Queens actor in a commercial and instantly knew he'd be a star. Fast-forward 15 years and Chase, who has become one of the most notorious, controversial and famous actors in the world,  is starring and directing in the first film Gold has put together as studio head. Hyde is a modern day, cyber retelling of the Jekyll and Hyde story that has gone way over budget for the first time director and threatened the career not only of Gold, but Chase as well.
How did Chase get to this point? How does an actor in a Mentos commercial become one of the most polarizing and popular presences in Hollywood? We'll tell you, going from his first major studio film Head On, to his Sundance darling Queens Boulevard, his James Cameron mega-hit Aquaman, moving into a producer role for Medellin, a Martin Scorsese driven-comeback in Gatsby and so much more. Join us for the insider ride through the entire Hollywood career of mega-star turned first time director Vincent Chase.
Chapter 1: Head On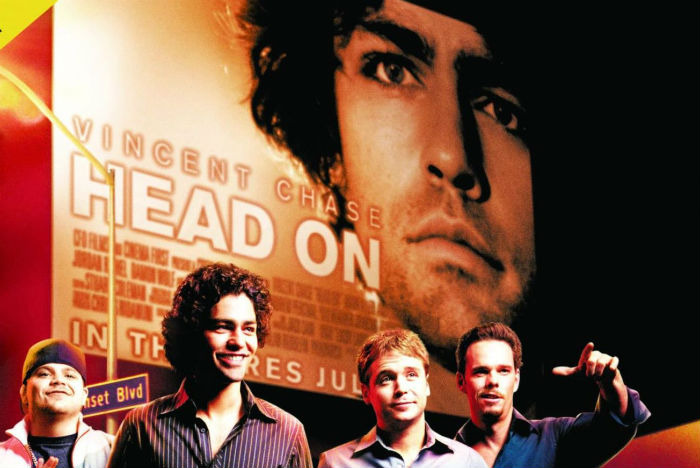 Though many had seen Vincent Chase in small roles, in Jag and in A Walk to Remember, his first major film was Head On, co-starring Jessica Alba. The film was a hit, grossing $18.6 million on its opening weekend, second only to the Pixar squirrel movie. It also, according to Chase's best friend turned defacto manager Eric Murphy (who spoke with /Film) was the reason Chase brought his friends to Los Angeles. "I think Head On was when Vince probably thought 'You know what? I need a little help out here,'" said Murphy. "When Head On hit, Vince kind of made his mark and thought, I need an entourage." Variety hated the film, but the New York Times praised it, calling Chase the next Johnny Depp.
The actor, however, knew this was only the beginning. Before the film opened, he, Murphy and his agent Ari Gold knew he needed to book his next film. Gold liked Matterhorn for Chase, an action film described as "Die Hard in an amusement park." Murphy read the script and, as we'll see, more or less made the decision for Chase that the film wasn't for him. In turn, they turned down a $4 million pay day. Colin Farrell ended up taking the role.
Upset at the potential mistake, the first of the random windfalls that would guide Chase's blessed career happened. Josh Weinstein, a then aspiring agent who was Gold's former assistant and something for a rival, gave Murphy a script called Queens Boulevard. It was raw, it was emotional, it was based on Chase's hometown. This had to be Vincent Chase's next film.
Enter Billy Walsh, a fresh, hot director off a major award at Sundance, who the producer of Queens Boulevard set to meet with Chase and Murphy. The director and star hit it off and despite obvious tension between Walsh and Murphy, they decided to move forward with the project. There was one problem: Walsh told Chase and Murphy he wanted to rewrite the script.
Upon reading Walsh's rewrite, Chase and Murphy were taken back. The director had added a homosexual encounter into the film both felt was largely out of character for Chase's role. Walsh urged them to trust him – that this scene would make the movie – and reluctantly, the duo agreed. If Walsh felt the scene was best for the movie, Chase would do it. Turns out, however, Walsh was just testing Chase's trust. The scene was a fake, and a lifelong friendship was born.
Before production could start on Queens Boulevard, Chase had one more big hurdle to overcome – his relationship with Murphy. The long time best friends were just getting their feet wet in Hollywood and Murphy wanted to make things official. He wanted to be Vince's manager. This lead to a rift between the two until, finally, Chase realized Murphy was one of the few people in the world he could trust. As they boarded the plane to New York to shoot Queens Boulevard, they agreed to the deal.
Chapter 2: Queens Boulevard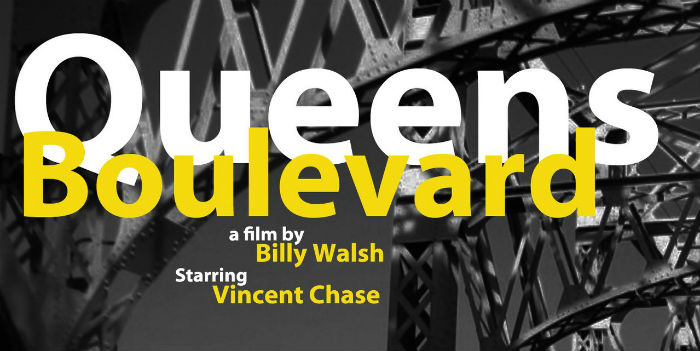 "Queens Boulevard was just a guy trying to flex his artistic muscle," said Doug Ellin, Chase's long time advisor, who spoke to /Film. "I think he's a guy who really wants to do good work and there are people like that out there. Like a Daniel Day-Lewis, who can do things whenever he wants. I wanted Vince to be that kind of guy."
Returning from filming Queens Boulevard, agent Ari Gold told Chase he'd already got his next project hand picked: Aquaman. Chase didn't want to be a superhero but Gold explained the actor needed to raise his profile, and his bank account, after several months on a small indie film set. "Ari Gold had the great quote where he said, 'You do one for you, then one for them. Queens Boulevard was our attempt," said Murphy. The manager had just the project to fill both those quotas: the Pablo Escobar biopic Medellin. Unfortunately for Chase, shooting Queens Boulevard after Head On instead of a studio picture hurt his marketability a bit. Gold broke the news that Tom Cruise was circling Medellin and Chase should do Aquaman. The actor remained understandably reluctant.
The script for Aquaman was by Andrew Kevin Walker, the writer of Seven. Murphy really liked it, as did Chase, but this was 2005 not 2015, and they were still reluctant. Did Chase really want to be seen on the big screen in spandex? Warner Bros.' then desire to shoot three back to back sequels, and pay Chase $5, $7 and $12 million respectively, did change his tune though and Chase agreed to play Aquaman.
At that time, Aquaman didn't have a director. A few days later, someone was interested: James Cameron. This was huge news for Chase, but the problem was Cameron reportedly wanted Leonardo DiCaprio for the role. Gold called the studio and found out that Cameron loved the script but didn't know who Chase was.
Murphy and Gold both made it their goal to get Cameron a screening of Chase's latest work, Queens Boulevard, only to be stopped by the director. Billy Walsh decided he didn't want anyone to see the movie before Sundance. Still, the hustle of Murphy and Gold paid off and got Cameron interested in Chase. He decided to fly to Sundance to see the film.
In Park City, before Queens Boulevard screened or Cameron made a decision, Murphy ran into Harvey Weingard, legendary producer and studio executive. On the spot he offered Chase a surfing movie that shot in Australia three weeks later for $3 million dollars. Their money problem was, hypothetically, solved but the boys from Queens had a dilemma. Should they take the guaranteed money or role the dice and try to make a James Cameron film?
Never ones to take the easy way out, Murphy and Chase agreed to Weingard's terms, and then changed their minds hours later. This made Weingard extremely mad and had a legendary meltdown, minutes before Cameron was to see Queens Boulevard.
The Sundance premiere of Queens Boulevard went well but, afterwards, Chase's long time friend and driver Turtle told him Cameron left 10 minutes into the movie. This, as you'd expect, did not sound like a good sign until Murphy's phone rang. James Cameron loved what he saw in the first ten minutes of Queens Boulevard so much, he wanted Chase to play Aquaman. It was a moment that would change Chase's life forever.
Among his first duties as the new Aquaman, Chase would have to go to Comic-Con with his co-star, Mandy Moore, to reveal their roles to the world. What was particularly interesting about Cameron's choice to cast Moore opposite Chase was the pair previously worked together on A Walk to Remember. On that set, Chase developed a bit of an unhealthy obsession with the actress and the director was actually forced to shut down production on the film for a day. Though Chase struggled with reuniting with Moore for this massive film, and almost decided to quit because of it, the two eventually figured things out and production on Aquaman began, aimed at a Summer 2006 release date.
Chapter 3: Aquaman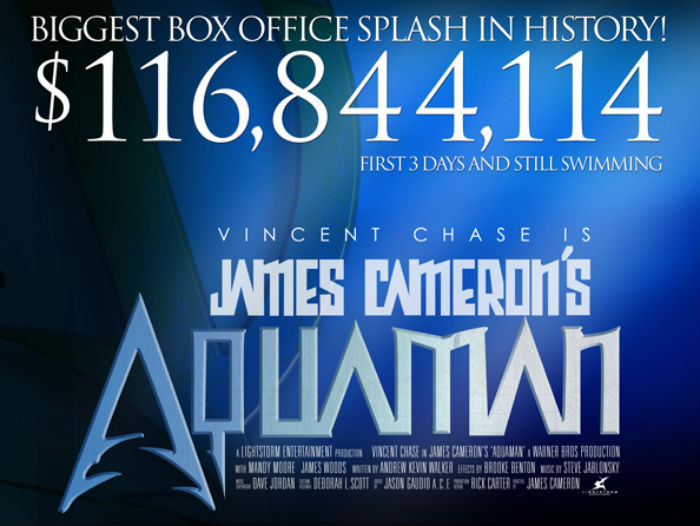 As you can imagine, things got incredibly busy and exciting for Chase after filming a James Cameron movie. To mark the occasion, Chase and all of his friends specially flew their mothers to Los Angeles for the premiere.
Though we all know Aquaman became a massive hit, at the time, no one was sure. On opening day, there were rolling blackouts all over the west coast, and several theaters had to cancel screenings of the film. (Chase spent the day sneaking into theaters in the Valley). Even with that set back, Chase and Cameron tackled the then all-time box office champion, Spider-Man, with an opening weekend gross of $116 million. They even started development on Aquaman the ride.
So how do you follow up a monster? Gold presented Chase with scripts from Darren Aronofsky, David O'Russell, then threw them in the garbage. He was ready to get Chase's dream project, Medellin. Paul Haggis was now attached and loved Chase in the lead role. However, there was one problem – Aquaman 2.
Chase had signed on for multiple Aquaman sequels but since there wasn't yet a script for Aquaman 2, he was sure he could make Medellin beforehand. However, Warner Bros. wanted to rush it out. Gone was James Cameron and Andrew Kevin Walker, in were Michael Bay and Kevin Smith. The head of Warner Bros. Alan Gray, say they'd give Chase 65 days to go off and make his passion project, but Haggis insisted he needed 90. He, along with Chase and Murphy, figured out a way to shoot the movie in two parts but it turned out Warner Bros. was bluffing. Gray didn't want their big, franchise star in a movie doing lines of cocaine on screen and were never going to let Chase do Medellin.
Infuriated, Chase told the studio he wanted $20 million to make Aquaman 2 or he was out. They countered with $12.5 million and, because of his contract, Chase very reluctantly agreed. However, he said he'd take his original salary so as not to be indebted to Gray. That lack of respect peaked when Chase missed a peace keeping meeting with the executive on purpose and he fired Chase from the franchise. Jake Gyllenhaal ended up starring in Aquaman 2. Meanwhile, while all this was happening, Haggis askedBenicio del Toro to play Pablo Escobar in Medellin. Chase, who at one point had two big movies, now had none.
Dark times for Chase would get darker. Queens Boulevard was finally being readied for release and, because of strong test scores, the studio decided to release it wide. There was one problem: audiences didn't like Billy Walsh's choice to film the movie in black and white. They added color to the film and, at a press conference with the Hollywood Foreign Press Association, Walsh and Chase decide to submarine it. Queens Boulevard never got a theatrical release and, years later, got a release on DVD.
At this point, Chase's brashness, stubbornness and instincts had screwed him out of Medellin, Aquaman 2 and the release of Queens Boulevard. It was then that, as sometimes fate would have it, Eric Murphy was introduced to Oscar-winning, legendary producer Bob Ryan. At Ryan's house, Murphy stumbled upon a script called I Wanna Be Sedated. It was the story of The Ramones, a commercial, New York set story that Murphy and Chase instantly fell in love with. Gold set up meetings all over town for Ryan and Chase to pitch the film together but Gold's unprofessional attitude to Ryan lead the producer to spitefully sell the script to the one studio Chase couldn't work with, Warner Bros. Turns out, Alan Gray was still mad about Aquaman 2 and bought the script just so Chase couldn't have it. Angered at Gold's major misstep, Murphy and Chase decided to fire Gold as Chase's agent.
Chapter 3 Part 2: A New Agent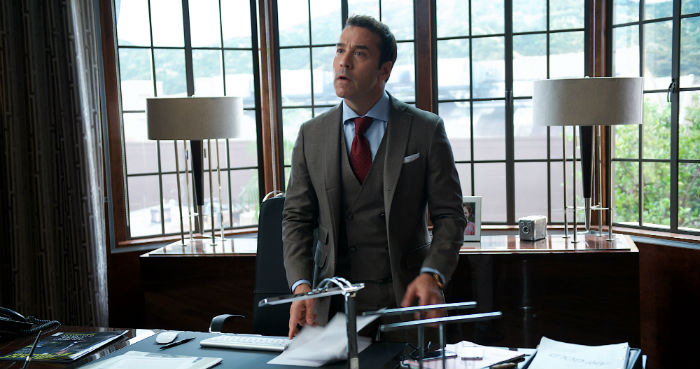 Vincent Chase then hired only his second agent ever, Amanda Daniels. Her first order of business was to give Chase a script for an Edith Wharton period film written by Steven Zallian and directed by Sam Mendes. It was a major, major movie but Chase and Murphy didn't understand it. What they do get is a gift from their former agent, Ari Gold. It's the script to Medellin. Last they heard, Paul Haggis was going to direct with Benicio del Toro in the lead but Gold told them things had changed. Daniels believed Gold was wrong and the movie was still happening with those two. On top of that, she was extremely upset Chase and Murphy were still listening to Gold in any capacity. The rocky road began.
As Gold predicted, del Toro walked off the project leaving the lead role open for Haggis. They needed Chase on set A.S.A.P. which sent Daniels, the producers and executives into a rage. Unfortunately for Chase, a late minute timing issue made everyone miss their deadlines and, once again, Medellin was dead.
Still unsure of how the deadline was blown, Chase and Murphy blamed Daniels for the delay and decided to go behind her back to Gold. They wanted to salvage Medellin. The producer agreed on one condition: that Chase does another movie him. That movie was Matterhorn, the film Chase turned down years earlier which subsequently got cancelled when Colin Farrell got injured on set. Always willing to take a chance, Chase decided he wouldn't do that and instead mortgaged his house to buy the script to Medellin for himself. It was something he believed that strongly in.
Chase bought the script for several millions dollars and sought out the help of long time friend Billy Walsh. Walsh loved it, got incredibly passionate about it, and agent, manager, star and director began raising the money. Lots of negotiating eventually lead to a $30 million budget for the film, and the boys from Queens had their next project.
Chapter 4: Medellin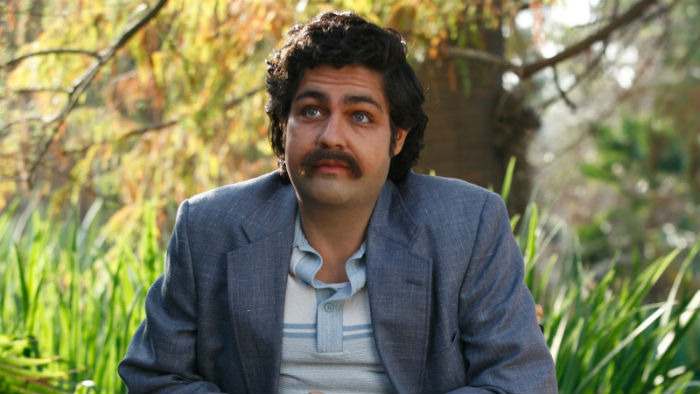 For the first time in his career, Vincent Chase let the world see him work on the set of Medellin, and there was plenty of drama. While on set, director Billy Walsh fired his director of photography. He wanted to change the ending. He fell in love with an extra. They even fought to get Steven Gaigan to fly in to re-write the ending of the film. Then, not only did he fly in, at the cost of $275,000, but when Gaigan was on the flight in, Walsh himself finally cracked the idea. It was the kind of waste which would later hurt Medellin.
Back in Los Angeles after the shoot, Chase and Murphy asked to see an early cut of the film. Walsh was reluctant but eventually agreed. After a first view, Chase loved the film but Murphy didn't. Walsh wouldn't accept this, refused to take Murphy's notes and suggested they fire him. Knowing the film was in shambles, Murphy took a meeting with Harvey Weingard. Weingard was still sore after the Sundance debacle of the previous year but agreed to buy the film sight unseen for $25 million. Murphy saw this as a win because he believed the film stunk but, unfortunately, Walsh went behind his back and got the film accepted into the Cannes Film Festival. This put Murphy in the unfortunately position to, once again, have to tell Weinberg he was backing out of a deal just as the town got excited for the film thanks to a leaked trailer on YouTube.
Hot off the news of the trailer and the Cannes acceptance, it was time to get Chase his next film. He loved a mountain climbing script called Lost in the Clouds which had Curtis Hanson and Heath Ledger attached. This could have been a roadblock but those two left the project and Ari Gold decided he could sell Lost in the Clouds as the next film from Vincent Chase and Billy Walsh, the team behind Medellin and Queens Boulevard. Murphy was incredibly reluctant about working with Walsh for a third time, but when he found out it was the editor's jealous girlfriend, and not Walsh, who leaked the Medellin trailer, they decided to bury the hatchet.
At this time, rumors swirled about Chase possibly working with Peter Jackson and there were talks, but it was more for Jackson's ventures into video games than anything else. Nothing would come of it. The same can be said for Lost in the Clouds. Somehow, Gold got a young executive named Dana Gordon to commit to the project but when Walsh turned in his script, there was a huge problem. However, he turned the mountain climbing drama into a futuristic sci-fi film set on a farm called Silo. The executives, Gold, Murphy and Chase all freaked out at Walsh's betrayal until they read the script. They all loved it, minus Murphy.
Murphy didn't feel like Silo worked and even told his new client, Anna Faris, she should pass on it despite his best friend and #1 client Chase being attached. Pretty much that's the last anyone heard of Silo because Chase and his crew hopped on a jet – Kanye West's to be specific – to go to Cannes and sell Medellin.
At Cannes, Medellin was the talk of the festival. A Sheik, who almost helped finance the film before production, was about to start a distribution company and offered the boys $35 million to buy the movie without having seen it. Because the other company is unproven though, Gold used that $35 million leverage to get Dana Gordon to buy the film for $29.5 million. They were just about to agree until the Sheik went behind everyone's back and purchased the film from the producer for $75 million.
That, however, wouldn't stick. The world premiere of Medellin is widely considered one of the biggest failures in the history of the Cannes Film Festival. A "Hindenburg of a screening," according to Roeper and Phillips. The boos could be heard all over France and the Sheik told everyone since they never signed any papers, he wouldn't be buying the film. Harvey Weingard, however, was still interested. He bought it for $1.
"On Medellin, I think Chase learned don't put your own money into movies," said Doug Ellin. "It's just not smart, but it doesn't mean he won't do it again."
Chapter 5: Smoke Jumpers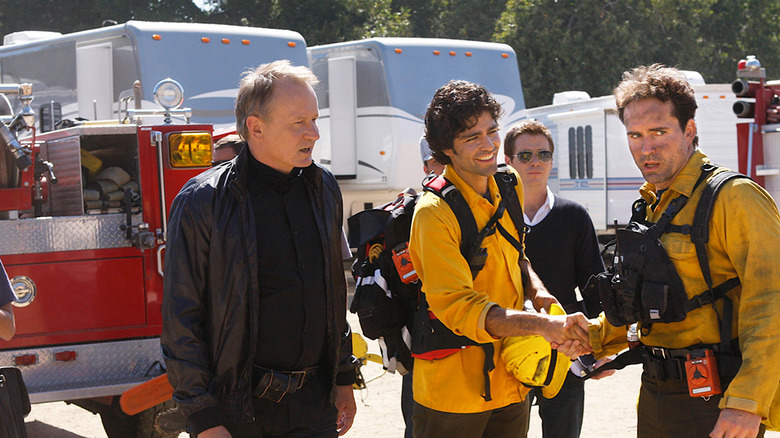 After the disaster of Medellin, Chase disappeared to a Mexican beach for six months. No one wanted to make a movie with him. Everyone though his career as over, and maybe they were right. However, things begin to take a turn when B-Movie producer Carl Ertz offered Chase a role in a smart horror film called Danger Beach. Despite the terrible title, Murphy and Gold though this could be a great comeback movie for Chase. They flew to Mexico to try and convince him to do it, and Chase agreed. However, they'd all been played. Ertz was just using Chase as a pawn to get Emile Hirsch to take less money for the role. On the plus side, that betrayal lit a fire under Chase and he came back to Los Angeles, ready to make his way back to the top.
Upon Chase's return, Gold explained to him that Hollywood's current perception is he doesn't give a crap. No one wanted to work with an actor who didn't seem to care about their career and Chase said he was determined to change that. He began working hard, reading scripts and finally found one he liked. It was called Nine Brave Souls written by two unknown writers. The film told the story of heroic firefighters and Gold floated it out to the town. One person bit, Edward Norton, who loved it but wanted to up the budget to a studio film and call it Smoke Jumpers. The writers were totally on board. Plus, in order to get them the quote they want, ($500,000 each), Chase agreed to step back and take a supporting role in the film. All seemed well until Norton took the film to Warner Bros. who stilled hated chase because of Aquaman 2.
With even a supporting role in Smoke Jumpers now in question because of the studio, Chase was presented with a new option: $3 million to star in a Benji movie. In this moment, Chase had to make a decision that would basically again define his career. Take the money or do it for the art. Chase took his friends, as well as Eric Roberts and Gold, to Joshua Tree to do drugs and decide."I don't think Vince is a money guy," Doug Ellin said. "I think he's a guy who really wants to do good work." Ellin was right. While at Joshua Tree, Chase had a vision – he has to do the supporting role in Smoke Jumpers no matter what.
As the details of Smoke Jumpers were still being worked out, Chase had an awkward, but fortuitous, meeting. Josh Weinstein – the agent that first gave Chase the script the Queens Boulevard – set up a meeting between Chase and Frank Darabont. Everyone was very excited about the meeting until they realized Weinstein pulled a fast one. Darabont didn't want Chase for his new movie. His new movie was all cast and ready to go. He thought, maybe, Chase could start in a new TV show he was working on. Chase and Darabont parted ways amicably and Weinstein explained he thought Vince was done with movies. That was not the case.
It was around this time that Alan Gray, the head of Warner Bros., tragically died at the golf course and CEO John Ellis offered Ari Gold the job. He declined but instead positioned long term ally Dana Gordon in the role. Her first deed at studio head was casting Chase in Smoke Jumpers, and production began.
The first day on set of Smoke Jumpers was Chase's first day on a set in over a year. He was very nervous, especially with a very difficult director named Verner Vollstedt (think Werner Herzog) at the helm. Things only got worse when the film's star, Jason Patric, started stealing Chase's lines. Chase and Murphy confronted Patric about it and Patric said Vollstedt specifically gave him the lines. The director then told Chase he thought Chase had some major problems as an actor. Later, after doing over 50 takes on a pivotal scene, the actor and director clashed. It was revealed the studio forced Vollstedt to cast Chase, he doesn't like him, and was systematically cutting him from the movie. He fired Chase on the spot.
"Listen, it's never good to be fired off of a movie," Murphy told /Film. "If a big time director on a big time movie like that fires you off a movie, you're in big trouble. You know, that was not a good moment in the career of Vinnie Chase."
To attempt a last minute save, Gold flew to the Smoke Jumpers set on Jerry Bruckheimer's helicopter. He clashed with Vollstedt and Vollstedt flew back to the studio to fight for his movie. Eventually the plug was pulled entirely. Smoke Jumpers was to be Vincent Chase's big comeback, but he ended up setting it on flames.
Still considered damaged goods, Chase and his friends flew back to their home in Queens, New York. Chase's mother revealed she heard Gus Van Sant was shooting a movie there and Joaquin Phoenix broke his arm on set. Apparently, the director was in need of an actor, and fast. Murphy got on the case, going so far as to wait in Van Sant's office even after the director told him he didn't want Chase in the movie. Van Sant explained he'd seen all Chase's films and just didn't think he's good enough. Murphy begged and pleaded for the director to look at some of the dailies from Smoke Jumpers and, reluctantly, Van Sant agreed.
It was tense day in the Chase household waiting for Gun Van Sant to call Murphy but he finally did. The director loved the scenes, they really made him look at Chase in a new light, but he still didn't think he was right for the movie. It had only been a few years since Murphy took over as Chase's manager and so far almost nothing has worked. Chase fired Murphy.
Weeks passed and Ari Gold flew into New York to check on his star. He's also had someone on the phone for him. It was Martin Scorsese. Van Sant showed Scorsese the Smoke Jumper dailies and the director wanted to know if Chase would like to play Nick Carroway in a modern, New York retelling of The Great Gatsby. Smoke Jumpers may have been a disaster, but the brief work on that finally ignited Chase's comeback.
Part 6: Gatsby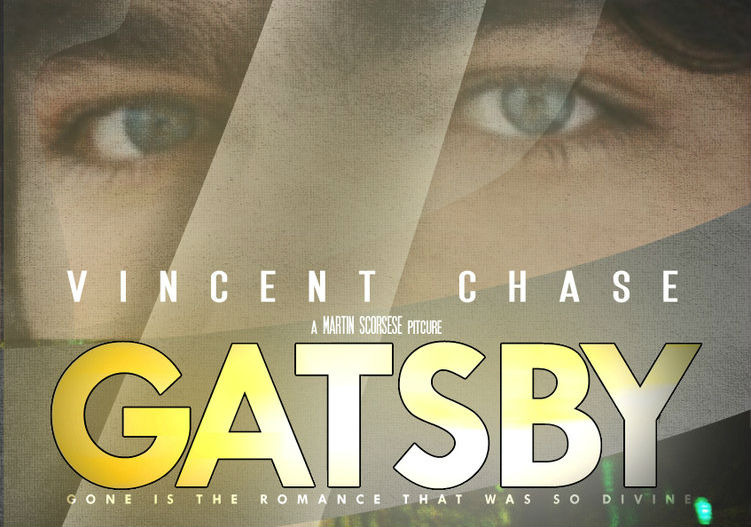 With the release of Gatsby, Vincent Chase was back on easy street. "I think that was huge for him," said Ellin. "I think for Vince, he would've worked with Scorsese on anything no matter what it was." It worked. The Scorsese film opened with $37.8 million and the offers were pouring in for new movies – $9 million, $10 million, $12 million. Chase agreed to play Enzo Ferrari in a Ferrari biopic for Frank Darabont but production was pushed back several months because of weather. To kill the time, he got paid $4 million to provide the voice of a dog in a new animated film. He also had to get his drivers license for the first time in his life. Yes, things were great for Vincent Chase as he shot off to Italy to shoot Ferrari, but as usual, things were about to change again.
Part 7: The Accident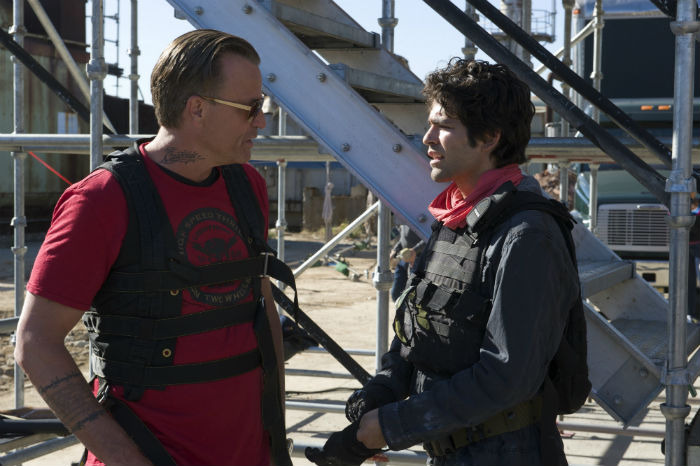 By the time we caught up with Vincent Chase again, Ferrari was in the can. "I think Ferrari was probably a modest success," said Ellin. "Critically acclaimed, modest success. And probably a disappointment that he wasn't nominated for anything." He followed it up with an untitled action film directed by Nick Cassevetes, which some refer to as The Takeover. While on set, the director begged Chase to do a massive car stunt himself. Chase didn't want to do it, knew it was the wrong decision and everyone he trusted advised against it. But this was the new, gung-ho Vincent Chase so he decided to do it. Cassevetes got the footage but Chase was banged up in the crash. This incident would eventually send the actor down a very dark path despite the movie being a success.
"I think that movie came out okay," Murphy said of the film. "He got his quote. And Cassavetes is a good director. I think that was okay."
At the junket for Ferrari, Chase told Maria Menounos he hadn't seen the movie yet and it might suck. Everyone from Murphy down to his publicist couldn't believe Chase would say such a thing and they found out he was a little zoned out on pain medication. He also cut his hair, which screwed up some reshoots Cassevetes had planned.
A manager colleague of Murphy's, Scott Lavin, then introduced Chase to Randall Wallace, the writer of Braveheart and director of Secretariat. Wallace told Chase he was about to direct a brand new superhero film from the mind of Stan Lee and written by David Benioff called Airwalker. Chase didn't want to do another superhero film, but he figured he'd look into it. A meeting was set up with Wallace and Lee but Chase showed up high and with his new girlfriend, porn star Sasha Grey. This did not go over well with Wallace, and things got even worse when Chase got drunk on a new tequilla his buddy and driver, Turtle, was trying to sell. Chase drunkenly endorsed the product and the video of him, drunk, with Grey, leaked online, just as Chase got an offer for $12 million plus back end to star in Airwalker.
Chase agreed to meet with Wallace again to smooth out any problems. However, again, Chase showed up high – this time on cocaine – because he'd been out all night. This forced the studio to insist Chase take a drug test, which no one was happy with. He swore to Murphy, the head of the studio and others that he was clean and they all believed him. Everyone backed Chase so hard, in fact, Randall Wallace exited the project. Thankfully, Gold was friendly with Peter Berg and got him a meeting with Chase. They hit it off and it looked like Airwalker was back on track. That was, until, Chase broke up Grey, went on a bender, moved into the Roosevelt Hotel, got into a fight with Eminem and was arrested for narcotics possession.
Chapter 8: Redemption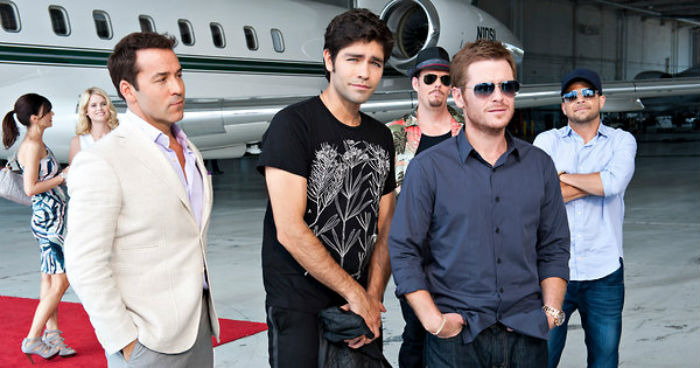 Months passed and Chase was about to get out of rehab. Airwalker was still waiting for him, but Chase got passionate about a film telling the story of some Chilean miners. He even wanted to direct it, but everyone around him felt the idea was more a fitting for Lifetime. Finally, Chase agreed and felt like it might be something to develop for his brother, fellow actor Johnny "Drama" Chase.
Chase and Murphy brought another recovering addict, Billy Walsh, on to help with the film, but he got inspired and decided to make another project for the elder Chase: a cartoon named Johnny Bananas. Meanwhile, Vincent Chase was forced to take another drug test before shooting on Airwalker began. He passed, but only with the help of a fake penis, since he'd smoked weed a few days before.
By this point, the ups and downs of Vincent Chase were the thing of legend. Vanity Fair wanted to do a profile. During his interview, the actor fell in love with the reporter, Sophia, and flew off to Paris to marry her, friends in tow.
Meanwhile Gold, who recently quit his job to save his marriage, got the call of the lifetime – would he like to run a studio?
Chapter 9: The Future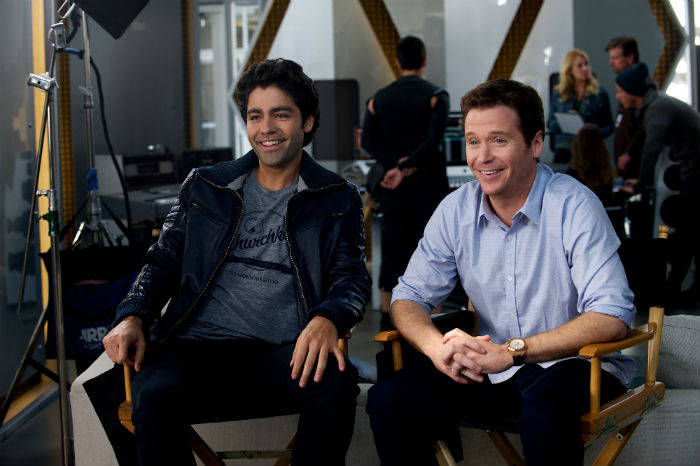 Which is where the story of Vincent Chase is now. Gold's first project as studio head is Hyde, and Chase is directing. (In her final act of mercy during their failed 8-day marriage, Sophia told Vince to kill Airwalker). "I think this, again, is Vince taking a risk that is very dangerous," said Ellin. "Coming in I think he knows that Ari knows good material, but once he's saying 'I'm gonna go direct,' that's a whole different thing. You can either become Kevin Costner or Mel Gibson or you can just destroy your entire career."
Will this be the film that puts Vincent Chase and his friends back on top? Or will it be the final nail in a coffin of a career that's had more comebacks than not. Time will tell but as you've read above, Chase definitely has a knack for coming out on top.
(This has been a recap of Vincent Chase's career over the course of Entourage, the TV show. The film version opens June 3)