Woody Harrelson Will Play Daniel Clowes' 'Wilson'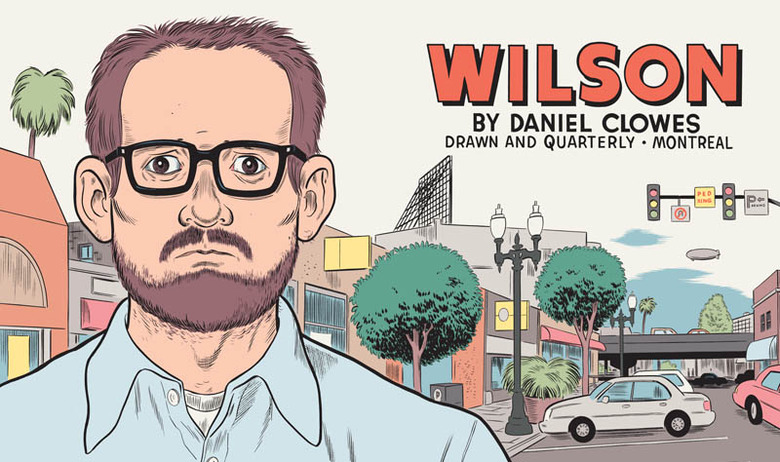 Daniel Clowes, creator of the incredible comic series Eightball, which launched the stories that led to the films Ghost World and Art School Confidential, will soon see his character Wilson on the big screen. This one has been in development for a while, and now has Woody Harrelson and Laura Dern set to star under the direction of Craig Johnson, who made last year's Sundance hit The Skeleton Twins.THR reports that the film will shoot in June in Minneapolis. Alexander Payne, who was once flirting with the director's gig way back in 2010, will still produce, with the script coming from Clowes himself. (Clowes also scripted the film adaptations of Ghost World and Art School Confidential.)
This film has been a long time coming — the last time we reported on it was in 2011 — so it's great to see that it will still happen.
Wilson is about "a lonely, unemployed, self-loathing, passive-aggressive sad-sack who goes through life making himself and the people around him miserable." THR says the script has middle-aged Wilson (Harrelson) seeking out his drug-addict ex-wife (Dern) after his father dies. Then, "when he learns of a teenaged daughter, born after his divorce, he tries to force them all to join him in his last gasping stab at a family."
Don't expect much further movie work from Clowes, however. The writer/artist says "all I want to do is sit at the drawing board" when asked by The Guardian about doing more film work. But he has considered going back to the Ghost World characters Enid and Rebecca, at least via comics:
I've thought about doing the 'Ghost World' girls as adults. I think one day I may just revisit all the characters. I may do something where they get together in some way, just to see what would happen.
Incidentally, with Eightball getting a lavish reprint in the next few weeks, Clowes is out doing quite a few interviews right now. He talked with Vulture about casting a young Scarlett Johansson in Ghost World back in 2000:
We were desperate to find Rebecca. We had found Thora Birch [to play Enid], and we just had no Rebecca. The studio, of course, wanted these mainstream actresses that would've been horrible. But also, we had all these audition tapes from totally unknown, small-time actresses. I was weeding through the stack because nobody else wanted to, and there was one where I thought, Gee, she was perfect! It was from Scarlett Johansson. But it was so hard to get them to agree to cast her. They finally they relented just 'cause we were so adamant that she was the right one for it.
[Her audition tape was] just her just reading lines with her agent or manager or whatever. She's sitting in a kitchen somewhere, in an office, I guess, and she just didn't seem to care at all. She was throwing out the lines like it was the real thing, and it was effortless, and you could tell she's got the natural gift. Our producer said it was like seeing a young thoroughbred on the racetrack. It was kind of remarkable.