James Ponsoldt Circling F. Scott Fitzgerald Drama 'West Of Sunset'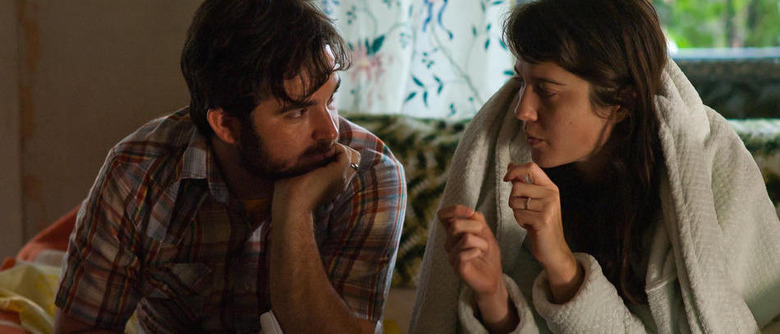 We may receive a commission on purchases made from links.
Having examined the life and times of one great writer in The End of the Tour, James Ponsoldt is looking to tackle another. He's in talks to write and direct West of Sunset, based on Stewart O'Nan's fictionalized biography of The Great Gatsby author F. Scott Fitzgerald. Get all the details on the James Ponsoldt F Scott Fitzgerald movie after the jump. 
Deadline broke the news about the possible James Ponsoldt F Scott Fitzgerald movie. Sidney Kimmel Entertainment is negotiating for the book rights, and trying to strike a deal with Ponsoldt to bring it to the big screen. Kimmel will produce and Carla Hacken will executive produce.
O'Nan is probably best known to movie lovers as the author of Snow Angels, which David Gordon Green turned into a movie in 2007. Here's a synopsis (via Amazon) of O'Nan's West of Sunset, which came out earlier this year:
In 1937, F. Scott Fitzgerald was a troubled, uncertain man whose literary success was long over. In poor health, with his wife consigned to a mental asylum and his finances in ruins, he struggled to make a new start as a screenwriter in Hollywood. By December 1940, he would be dead of a heart attack.
Those last three years of Fitzgerald's life, often obscured by the legend of his earlier Jazz Age glamour, are the focus of Stewart O'Nan's gorgeously and gracefully written novel. With flashbacks to key moments from Fitzgerald's past, the story follows him as he arrives on the MGM lot, falls in love with brassy gossip columnist Sheilah Graham, begins work on The Last Tycoon, and tries to maintain a semblance of family life with the absent Zelda and daughter, Scottie.
Fitzgerald's orbit of literary fame and the Golden Age of Hollywood is brought vividly to life through the novel's romantic cast of characters, from Dorothy Parker and Ernest Hemingway to Humphrey Bogart. A sympathetic and deeply personal portrait of a flawed man who never gave up in the end, even as his every wish and hope seemed thwarted, West of Sunset confirms O'Nan as "possibly our best working novelist" (Salon).
Even if a deal closes, West of Sunset won't be Ponsoldt's next movie. He's currently getting the pieces together for The Circle, based on the book by Dave Eggers. Tom Hanks is set to star as the charismatic owner of a tech company, and Emma Watson has been offered the leading role of an employee at that same company.
Ponsoldt's The End of the Tour, starring Jason Segel as Infinite Jest author David Foster Wallace, arrives in theaters July 31.