'Ballers' Trailer: Dwayne Johnson Gives Financial Advice In HBO Comedy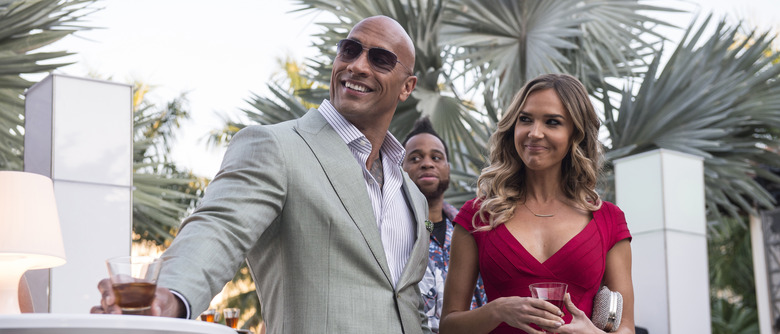 This weekend marks the opening of San Andreas, in which Dwayne Johnson deals with the largest earthquake ever recorded in history. But if you'd like to enjoy his charm without the specter of catastrophic disaster, you can keep an eye out for next month's Ballers.
Johnson leads the HBO comedy as Spencer, a former football player turned financial advisor. Which might sound like a less exciting career, except that he's serving as a financial advisor to professional athletes, so he still gets to party it up with the best of them. Watch the latest Ballers trailer after the jump.
HBO unleashed the new Ballers trailer on YouTube.
Germain described the last Ballers trailer as looking "like a football Entourage," and I don't think there's really a better way of describing it. That's no coincidence – Ballers is created by Entourage executive producer Steve Levinson, and executive produced by Mark Wahlberg.
Ballers premieres June 21 on HBO.
Set in Miami, Ballers is a half-hour dramedy centered on a group of current and former professional football players, as well as their families, friends, and handlers. The series goes beyond the game and explores not only the challenges that current players face, but also takes a behind-the-scenes, real look into their lives both on and off the field.
Created by Steve Levinson (Entourage) and produced by Mark Wahlberg (Entourage) among others, the pilot is directed by Peter Berg (Friday Night Lights, Leftovers). Dwayne Johnson ("The Rock") stars as Spencer Strasmore, a retired pro-football player, who is now struggling in his new career as a financial advisor. In his new role, he tries to advise his NFL friends financially and professionally, but identifies with the trials they are going through and tries (in vain) to protect them from making the same mistakes he and his teammates made.