New 'Ant-Man' Poster Pits The Hero Against A Swarm Of Bullets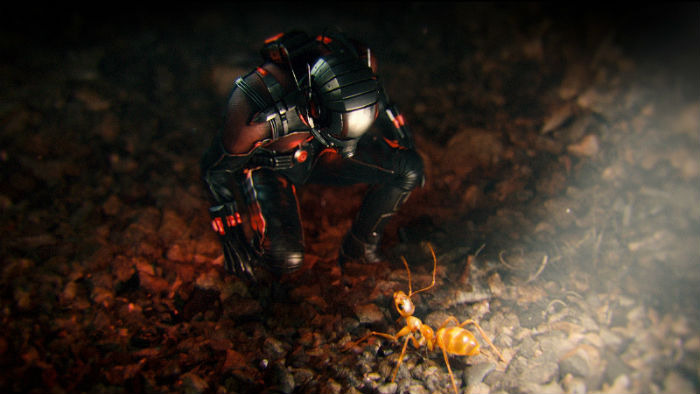 There's a new Ant-Man poster, and unlike the schlocky collage that made up the last one-sheet, this new image is more interesting. Ant-Man himself is the center of the shot, but it's the edges of the frame that get my attention. That's where we see a hail of bullets flying toward the little guy as he rides an ant, which seems like a pretty good promise of an action sequence in the final film. Check out the shot below.
Marvel tweeted the poster:
See if they can save the world in Marvel's #AntMan on July 17 — and until then, enjoy a new poster! #StoryOfAntMan pic.twitter.com/hhklecBblL

— Ant-Man (@AntMan) May 28, 2015
Here's a larger version. Now, as much as I like the shot there's some weird relative sizing there. That bullet under the word "brought," for instance. It looks like one of the closest ones to the character's head... and he's riding an ant... which means he's not even the size of a penny... so wouldn't that make that shot the tiniest bullet ever fired from any weapon? It's even smaller than a BB, or an individual bit of shot from a shotgun shell.
Whether that's something that will be explained in the film, or if there's just some artistic license being taken (which is fine, really) we'll have to wait to see in July.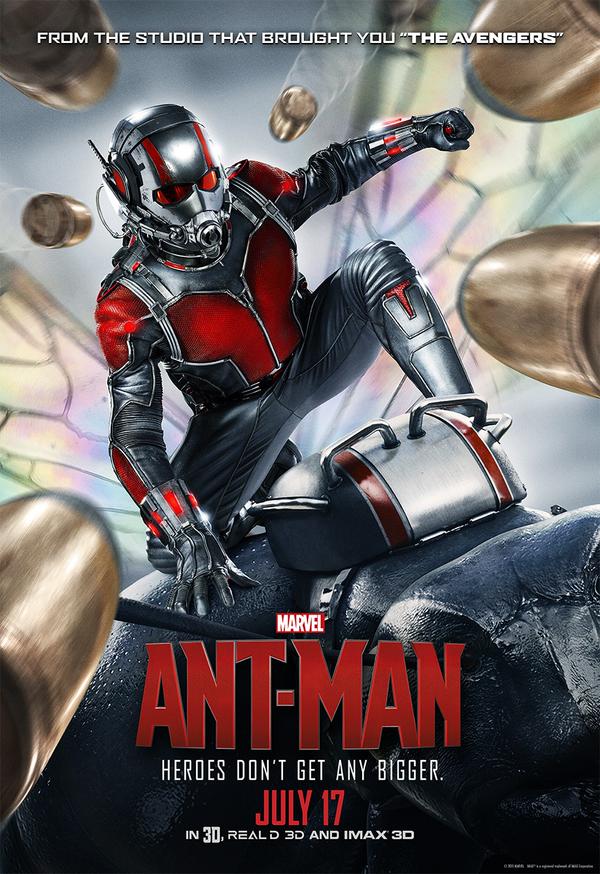 Ant-Man stars Paul Rudd as Scott Lang aka Ant-Man, Evangeline Lilly as Hope Van Dyne, Corey Stoll as Darren Cross aka Yellowjacket, Bobby Cannavale as Paxton, Michael Peña as Luis, Judy Greer as Maggie, Tip "Ti" Harris as Dave, David Dastmalchian as Kurt, Wood Harris as Gale, Jordi Mollà as Castillo and Michael Douglas as Hank Pym. Directed by Peyton Reed and produced by Kevin Feige, the film opens on July 17, 2015.
The next evolution of the Marvel Cinematic Universe brings a founding member of The Avengers to the big screen for the first time with Marvel Studios' "
Ant
-
Man
." Armed with the astonishing ability to shrink in scale but increase in strength, master thief Scott Lang must embrace his inner hero and help his mentor, Dr. Hank Pym, protect the secret behind his spectacular
Ant
-
Man
suit from a new generation of towering threats. Against seemingly insurmountable obstacles, Pym and Lang must plan and pull off a heist that will save the world.