'Urban Cowboy' TV Remake Coming From 'Hustle & Flow' Director Craig Brewer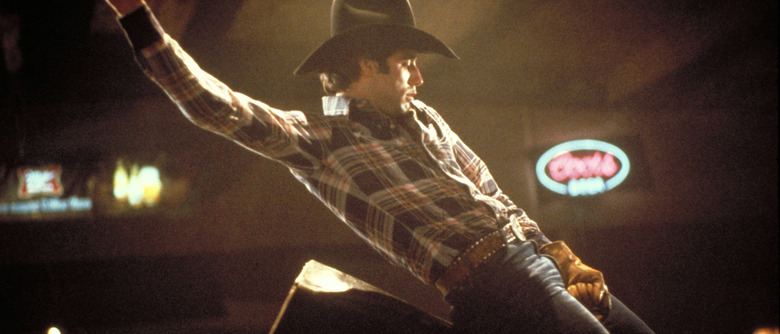 Urban Cowboy will be the next movie to get a small-screen makeover. Paramount TV and 20th Century Fox TV are firing up a TV remake of the 1980 John Travolta movie about love and drama in a Houston bar. Craig Brewer (Footloose, Hustle and Flow) will write, executive produce, and direct the pilot.
More on the Urban Cowboy TV remake after the jump. 
The original Urban Cowboy chronicled the tumultuous relationship between Bud (Travolta) and Sissy (Debra Winger), who meet at a honky-tonk bar in Houston. It was frequently compared to Travolta's 1977 hit Saturday Night Fever, and kickstarted the mechanical bull-riding trend.
According to Variety, the new Urban Cowboy will keep the Bud and Sissy romance, but move the action "against the gritty backdrop of rodeos, oil refineries, line dancing clubs and other aspects of modern-day Texas." Fox considers it a potential companion piece to its freshman hit Empire.
Besides Brewer, original Urban Cowboy producer Robert Evans and former HBO Entertainment president Susan Naegle will executive produce. No other writers or stars have been announced as of yet.
Paramount TV has recently had a lot of success mining its film stable for source material. It's also teaming with Fox TV for next season's Minority Report, a follow-up to the 2002 Tom Cruise movie. It has shows based on School of Rock, Shooter, and Galaxy Quest coming down the pipeline as well.
Of course, they're not the only studio to look to its film resume for inspiration. Within the next year or so, we're also getting TV versions of Uncle Buck (ABC), Limitless (CBS), Rush Hour (CBS), Scream (MTV), and Westworld (HBO). And those are just the ones that are actually happening; there are many many more in development.
Brewer last directed a different '80s remake, Footloose, and was (as of last year) linked to yet another '80s remake, The Idolmaker. In addition, he recently executive produced the Katy Perry documentary Part of Me.