'American Ultra' Trailers: Jesse Eisenberg And Kirsten Stewart's Stoner Action Film [UPDATED]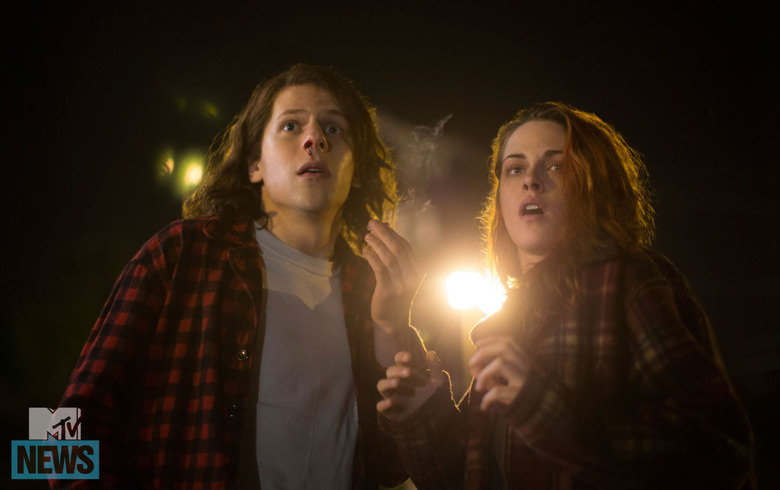 Think of the most unlikely action hero ever and the name Jesse Eisenberg might come up. Which is exactly why the red band trailer for American Ultra is so surprising. Directed by Nima Nourizadeh (Project X) and written by Max Landis (Chronicle), American Ultra is about a young man (Eisenberg) who wants to propose to his girlfriend (Kirsten Stewart) but is then revealed to be a sleeper agent, super spy. The main difference between him and other spies though is he's a huge stoner, slacker.
Co-starring Topher Grace, Connie Britton, John Leguizamo and others, American Ultra opens August 21. Check out the first American Ultra trailers below.
UPDATE: We've added a green band trailer to go along with Thursdays red band.
Thanks to Yahoo for the trailer
Red Band American Ultra trailer
UPDATE: Green Band American Ultra trailer
This probably doesn't at all look like something fans expected. It looks way more in the mold of Matthew Vaughn than the guy who did Project X. There's definitely potential here for something really fun. A unique blend of comedy, action, weirdness and romance. We know that Eisenberg and Stewart are both fantastic and Topher Grace looks like he's taking things to a whole new level as the film's villain. I don't know, this trailer – with all of its whiz, bang and flash – has me intrigued.
According to Nourizadeh, the film is going to be less about the action and more about the relationship between the two leads:
You start with this kind of like sweet love story. I don't want to turn people off with that, but what's really unique about this movie is the fact that it's like this kind of crazy action-comedy, but really at the core there is this like romance and there's this love story where all he wants to do is to propose to her. Really if you look at it, the action that comes into play is basically the stuff that's softening it. It's like the hurdles that you have to like overcome.
His world just gets turned upside down and he starts to realize who he actually is. For a lot of the movie, he's just like unaware of what's going on, why these people are trying to kill him, and he soon finds out. It's just this weird sort of entertaining, well-rounded, totally unique movie, I think where you know you'll be laughing one minute, you'll be hopefully quite shocked at some of the action that we did. It's violent, it's graphic, it's funny, it's silly at times, you know it's just got so many things going on that its hard to actually define really.
American Ultra opens August 21. What do you think of the red band trailer?