Chris Pine Confirmed For 'Wonder Woman' [Updated]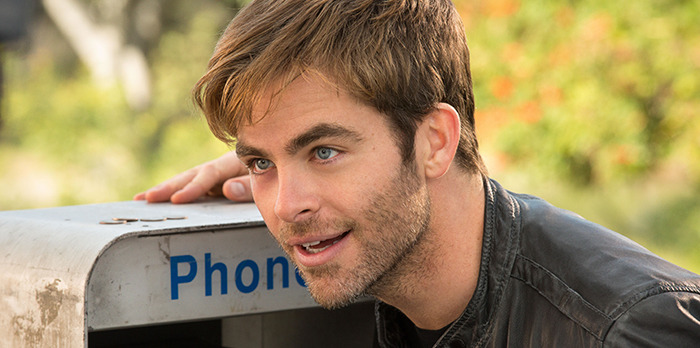 Chris Pine is bucking the trend of 30something white guys named Chris starring in Marvel movies. Instead, he's in talks to join a DC film. Specifically, Pine is looking to join Gal Gadot in Wonder Woman, in which he would play Steve Trevor.
Update: The Chris Pine Wonder Woman casting is now confirmed, with a report saying that Pine has finalized his deal to appear in the film and an unspecified number of sequels.
Variety reported on Pine's casting as Wonder Woman's love interest Steve Trevor. Patty Jenkins is directing the Warner Bros. superhero pic, having replaced Michelle MacLaren last month. Jason Fuchs is credited with the screenplay.
You may have also heard a separate story that Pine could play Green Lantern, but the Wonder Woman casting should nip those rumors once and for all.
Update: The Wrap reports that Pine has inked a deal to appear in Wonder Woman, with language that includes sequel options. As for the Green Lantern rumor, looks like this news kills off that talk. Unless — shocker! — there's some plan to turn Steve Trevor into a member of the Lantern Corps. (Note: We do not have any reason to suspect that is in fact the plan.)
In the comics, Steve Trevor is an army officer who crash-lands on Paradise Island, home turf of the Amazons, during World War II. Wonder Woman nurses him back to health and eventually falls in love with him. When he returns to the outside world, she follows him.
Much like Superman's love interest Lois Lane, Steve Trevor is an implausibly unobservant sort who fails to notice that his unassuming co-worker Diana Prince and the superheroine he's fallen in love with are one and the same. However, we have few details right now on the movie version of the character.
If you've been following the development of Wonder Woman, you may have heard a rumor at one point that Scott Eastwood was up for the part of Steve Trevor. According to Variety's sources, he was was given the choice between a guaranteed supporting role in Suicide Squad and the opportunity to test for Wonder Woman. He chose the former, as we already know.
Pine already has one big-budget sci-fi franchise under his belt. He's played Captain Kirk in two Star Trek movies and is set to reprise the role for a third film due out in 2016. However, Wonder Woman marks his first foray into a major comic book adaptation.
Besides Star Trek, Pine is coming off of a string of quirky supporting roles in Stretch, Horrible Bosses 2, and Into the Woods. Next up for him are Netflix's Wet Hot American Summer prequel, plus the Disney survival drama The Finest Hours, the sci-fi pic Z for Zachariah, and the crime drama Comancheria.
Wonder Woman is expected out June 23, 2017. But first, Gadot will make her debut as the classic superheroine in Batman v Superman: Dawn of Justice, slated for March 25, 2016.