Photo: Jeff Goldblum Returns For 'Independence Day 2'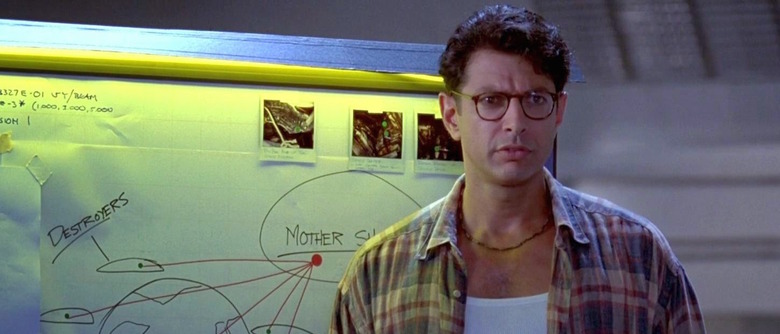 Jeff Goldblum is back for Independence Day 2, and writer/producer Dean Devlin has the photo to prove it. Devlin shared the first photo of the original Independence Day star on set for the sequel. Check out the Jeff Goldblum Independence Day 2 image after the jump. 
Devlin shared a selfie of himself with Goldblum on Instagram.
Goldblum reprises his role as David Levinson, the brilliant computer expert who helped President Thomas Whitmore beat back the invading alien forces in the first film. 20 years later, he looks pretty much the same, only handsomer. That silver hair really suits him.
Word is the Independence Day sequel picks up roughly 20 years after the original, with a new generation of fighters battling the next wave of extraterrestrials. Here's hoping Levinson hasn't gotten lazy, in case his technological expertise is needed once again.
Also back from the original Independence Day are Judd Hirsch as David's dad Julius; Bill Pullman as ex-POTUS Whitmore; Vivica A. Fox as Jasmine Dubrow; and Brent Spiner as scientist Brackish Okun. Will Smith, who played Marine pilot Steven Hiller, will not return.
New cast members include Jessie Usher as Jasmine's son Dylan; Maika Monroe as Whitmore's daughter Patricia; Liam Hemsworth as Patricia's love interest Jake Morrison; Sela Ward as U.S. president Lanford; Patrick St. Esprit as her Secretary of Defense Tanner; plus Charlotte Gainsbourg, Travis Tope, Joey King, and DeObia Oparei.
Roland Emmerich directs once again, and wrote the first draft of the script with Devlin. Since then, James A. Woods, Nicolas Wright, and James Vanderbilt have all had a hand in the screenplay as well. Emmerich and Devlin are additionally producing with Harald Kloser.Independence Day 2 opens June 24, 2016, just in time for the actual Independence Day and almost exactly 20 years after the opening of the original Independence Day.