'Fantastic Beasts' Female Lead Shortlist Includes Kate Upton, Dakota Fanning, Saoirse Ronan And More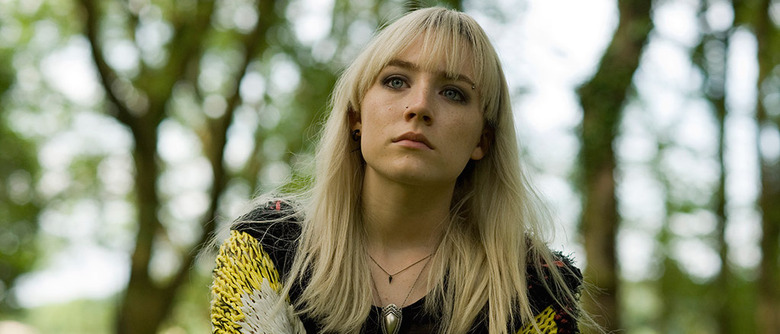 The Harry Potter spinoff Fantastic Beasts and Where to Find Them is closing in on not one, but two female leads. A shortlist making the arounds reveals Saoirse Ronan and Dakota Fanning are in the running for one role, while Kate Upton and Elizabeth Debicki are eyed considered for the other.
Eddie Redmayne is already set to star as Newt Scamander, a "magizoologist" who goes on to write the classic Hogwarts textbook Fantastic Beasts and Where to Find Them. More on the possible Fantastic Beasts female lead casting after the jump. 
TheWrap got the details on the Fantastic Beasts female lead shortlist. One of the characters is a young woman named Queenie and the other is Queenie's older sister Tina. Let's run down the options for both roles.
For Queenie:
Saoirse Ronan, known for Atonement and Hanna and more recently coming off of Lost River and The Grand Budapest Hotel.
Dakota Fanning, last seen in Effie Gray and Night Moves and set to star in Ewan McGregor's American Pastoral.
Lili Simmons, an American actress who's been on Cinemax's Banshee and HBO's True Detective.
Alison Sudol, a musician/actress who's been on USA's Dig as Emma Wilson and Amazon's Transparent as Kaya.
For Tina:
Kate Upton, a model whose acting credits include The Other Woman, The Three Stooges, and the upcoming The Layover.
Katherine Waterston, who played Shasta Fay Hepworth in Inherent Vice and appears in this fall's Steve Jobs.
Elizabeth Debicki, who broke through as Jordan in The Great Gatsby and co-stars this summer in Man From U.N.C.L.E.
The trade cautions that the list may be incomplete, and that not all of the actresses are necessarily even available to shoot Fantastic Beasts and Where to Find Them. Still, it's a start, and several of the actresses are scheduled to test with Redmayne in the coming week.
Of the names above, Ronan and Fanning are by far the most famous. Most of the others, including Waterston and Debicki, are still on their way up. Upton's appearance on this list is a bit surprising since her acting resume is pretty thin, but a high-profile role like this one would be a big boost for the charismatic model.
David Yates is directing Fantastic Beasts and Where to Find Them from a script by J.K. Rowling. Yates helmed the last four installments of the original Harry Potter film franchise.
Details on Fantastic Beasts and Where to Find Them are being kept under wraps for now, but we do know it takes place in New York about seven decades before the start of the Harry Potter adventures. Warner Bros. hopes the new film will launch a trilogy.
Fantastic Beasts and Where to Find Them opens November 18, 2016.