'Comedians In Cars Getting Coffee' Season 6 Trailer Teases A 'Seinfeld' Reunion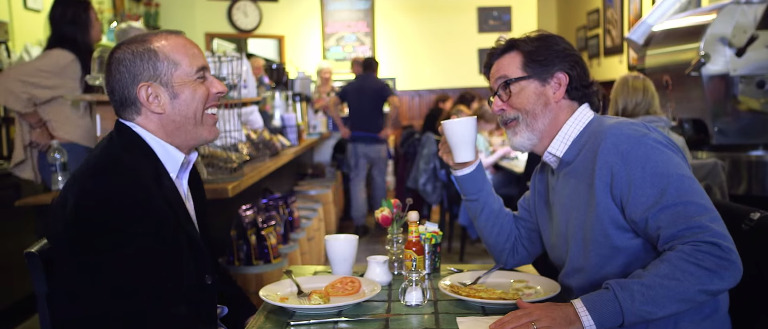 Just ahead of Seinfeld's Hulu premiere, two of the show's stars are reuniting for a much more modest venture: a quick drive and a cup of coffee. Julia Louis-Dreyfus is dropping by the sixth season of Jerry Seinfeld's web series Comedians in Cars Getting Coffee, along with Stephen Colbert, Trevor Noah, Steve Harvey, Bill Maher, and Jim Carrey.
Watch the Comedians in Cars Getting Coffee Season 6 trailer after the jump.
Crackle unveiled the Comedians in Cars Getting Coffee Season 6 trailer. As promised, it includes lots of comedians, lots of cars, and lots of coffee.
Louis-Dreyfus isn't the first Seinfeld alum to make her way to the show. Jason Alexander and Wayne Knight stopped in during Season 4, and the entire series kicked off with an appearance by Seinfeld co-creator Larry David. And whoever the guest, Seinfeld is still Seinfeld. In a chat with Maher, he muses, "If they were really donut holes, wouldn't the bag be empty?"
Besides the obvious appeal for Seinfeld fans, Comedians in Cars Getting Coffee Season 6 should also appeal to fans of Comedy Central's late-night lineup past and present. Colbert and his magnificent Colbeard take a spin with Seinfeld, as does future Daily Show host Trevor Noah. Elsewhere, Seinfeld smokes cigars with Harvey, trades insults with Maher, and spins around on weird chairs with Carrey.
And while I won't claim to know anything about the cars, it sounds like they're almost as good as the guests. Business Insider says they include a Morgan Plus 8 (Colbert), a Lamborghini Countach (Carrey), and an Aston Martin DB5 (Louis-Dreyfus, because according to Seinfeld she's "the James Bond of comedy": "Whatever the mission, you come in and you kill it"). Additionally, Harvey shouts that he's sitting in a "'57 Chevy Bel Air drop top."
Comedians in Cars Getting Coffee Season 6 kicks off June 3 at 11:30 PM Eastern time on Crackle. Louis-Dreyfus will be the season's first guest.