'Felt' Red-Band Trailer: A Fantastic Fest Thriller Takes On Rape Culture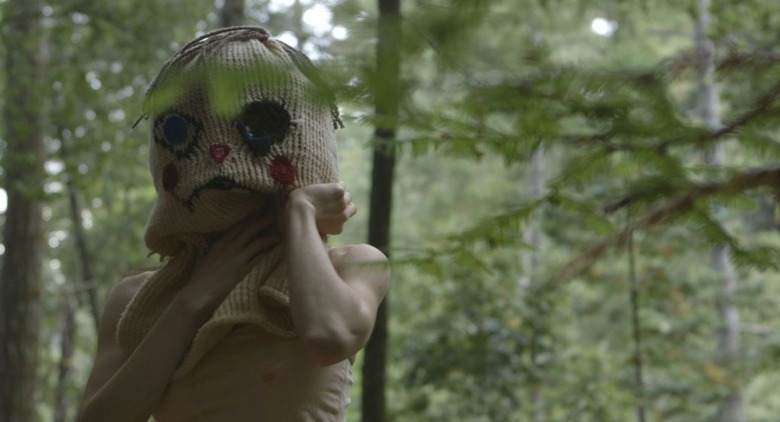 Sexual assault is a tricky subject to tackle, as the outcry over that Game of Thrones rape scene reminded us so very recently. Too often it's treated like just another crazy twist, rather than a grim reality that millions of people have to live with every day. Thankfully, that's not the case in Felt, Jason Banker's character study-turned-thriller from Fantastic Fest 2014.
Starring and based on the experiences of Amy Everson, Felt follows an artist dealing with the fallout of sexual trauma in a most unusual way: by crafting grotesque costumed alter egos for herself. Her behavior alienates some of the people around her, but eventually she falls into a relationship with Kenny (Kentucker Audley). Watch the Felt red band trailer after the jump. (There's also an all-ages version if you're at work.)
Here's the red-band trailer:
Rape revenge movies aren't terribly uncommon, but one of the things that makes Felt look so unusual is the way it deals with rape culture, not just a single, specific rape. "You're constantly objectified, discredited, for anything you do, because you're female," Everson laments in the trailer. "Everything is qualified by the fact that you don't have a dick."
This green-band trailer has a lot of the same ideas, but it is a bit more restrained on the language front.
Felt arrives in theaters June 26, and will hit digital HD and VOD July 21.
Amy is hanging on by a thread...
Struggling to cope with past sexual trauma and the daily aggressions of a male-dominated society, she creates grotesquely costumed alter egos that re-appropriate the male form. While giving her the sense of power she craves, acting as these characters pushes her further into a world of her own making. When she begins a new relationship with a seemingly good guy, she opens herself up to him – but that vulnerability comes at a dangerous cost, and her alter egos threaten to lash out in explosive violence.
Based on the real experiences and art of co-writer/star Amy Everson, Felt doesn't just point a finger at rape culture; it takes a full on swing at it, creating a feminist psychological thriller that audiences will be hard-pressed to shake off.