Check Out The First Trailer For Sundance Smash 'Diary Of A Teenage Girl'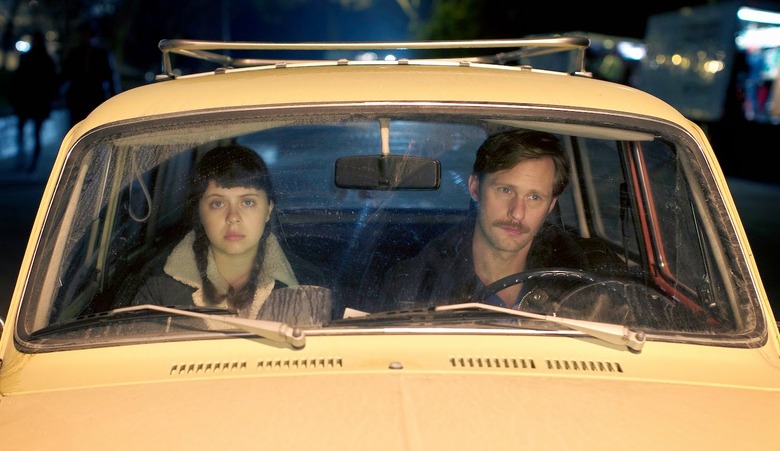 Coming-of-age indie narratives are a Sundance staple each year, and this year one of the most buzzed-about was Marielle Heller's The Diary of a Teenage Girl. Based on the novel by Phoebe Gloeckner, it stars Bel Powley as Minnie, a teenager growing up in 1970s San Francisco.
Minnie loses her virginity to a much older man (Alexander Skårsgard) who also happens to be dating her mom (Kristen Wiig), and her life only gets crazier and more complicated from there. Check out the first Diary of a Teenage Girl trailer after the jump. 
Yahoo debuted the first The Diary of a Teenage Girl trailer.
It's easy to imagine a more sensationalized version of this premise. Heck, Lifetime could probably spin five movies out of Minnie's sexual exploits, each more lurid than the last. So it's refreshing to see The Diary of a Teenage Girl resist going the cheap route. Instead, it tackles the more challenging, more rewarding task of staying true to Minnie's perspective, even mixing in her colorful illustrations of her own experiences.
Heller and her film were widely praised at Sundance for, as Variety put it, their ability to "plunge into the too-precocious sex life of a 15-year-old girl without turning exploitative or distasteful." And Powley, a British actor not much known in the U.S., looks like a real find. Here's hoping we'll be seeing a lot more from both of them in the coming years.
Sony Pictures Classics has The Diary of a Teenage Girl in theaters August 7.
Like most teenage girls, Minnie Goetze (Bel Powley) is longing for love, acceptance and a sense of purpose in the world. Minnie begins a complex love affair with her mother's (Kristen Wiig) boyfriend, "the handsomest man in the world," Monroe Rutherford (Alexander Skarsgård). What follows is a sharp, funny and provocative account of one girl's sexual and artistic awakening, without judgment.