Tons Of New Footage In Latest 'Jurassic World' Featurette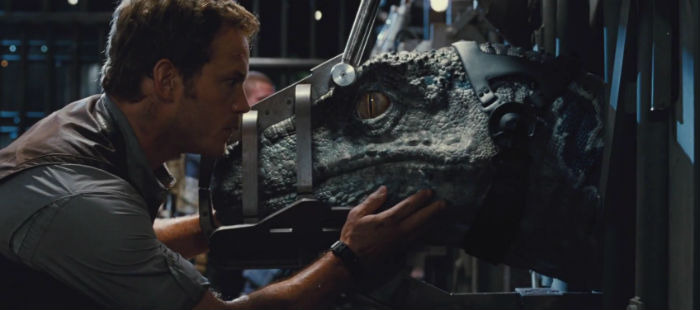 The park reopens on June 12 when Jurassic World hits theaters. Universal Pictures knows it has got a potential blockbuster, so the marketing is wisely using the audience's nostalgia for the original Jurassic Park in the new film's favor. The John Williams score, Steven Spielberg's enthusiasm, Chris Pratt's fandom, it's all been used of the marketing strategy for the film. Speaking on a personal level, it's definitely working.
The latest Jurassic World featurette continues this trend with a John Hammond voiceover, Pratt's reverence for the franchise and Spielberg himself talking up the film. But it also goes one step further but showing a ton of brand new footage from the movie. In fact, the video might be half all new footage. Check out the new Jurassic World video below.
Thanks to Universal for the new video.
New Jurassic World Video
Lots of new stuff there. Mostly just extensions of scenes we've previously seen, but it all still paints a pretty good picture. The shot of Pratt touching the raptor's face is great, and the two kids physically being chased by the D-Rex seems scary. This, coupled with the reveal of Michael Giacchino's score, has got me really hoping Jurassic World at least comes close to capturing a hint of the magic of the first film.
Jurassic World, directed by Colin Trevorrow, stars Chris Pratt, Bryce Dallas Howard, Vincent D'Onofrio, Ty Simpkins, Nick Robinson, Omar Sy, BD Wong and Irrfan Khan. It opens June 12
Steven Spielberg returns to executive produce the long-awaited next installment of his groundbreaking Jurassic Park series, Jurassic World.  Colin Trevorrow directs the epic action-adventure based on characters created by Michael Crichton.  The screenplay is by Rick Jaffa & Amanda Silver and Derek Connolly & Trevorrow, and the story is by Rick Jaffa & Amanda Silver.  Frank Marshall and Patrick Crowley join the team as producers.