Video: Universal Orlando Has Learned Nothing From 'Jurassic Park'; Unveils Raptor Encounter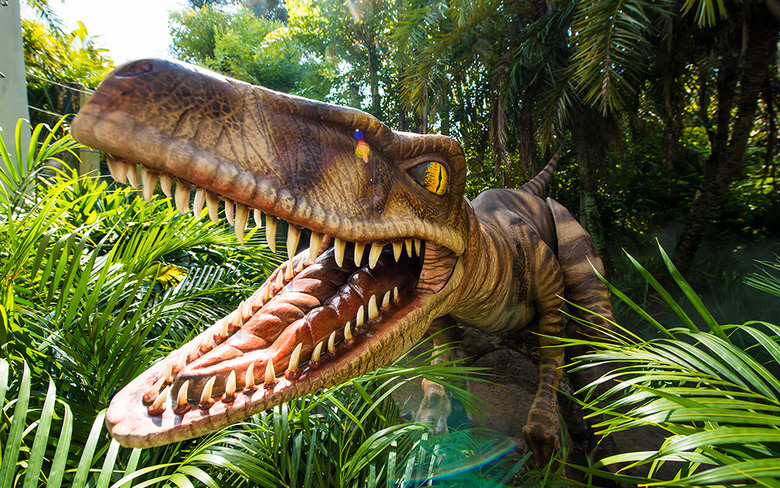 The lesson of every film in the Jurassic Park franchise, up to and including this summer's Jurassic World, is "Don't mess with dinosaurs." But clearly, the folks at Universal Orlando Resort still haven't gotten the message.
This weekend, the park introduced the Raptor Encounter, a new attraction that allows guests to get "up close and personal" with one of two velociraptors. Take a peek at the Jurassic Park Raptor Encounter at Universal Orlando after the jump.
Velociraptors have arrived at Jurassic Park in Universal's Islands of Adventure at Universal Orlando Resort! See them face to face in an all-new experience: Raptor Encounter.
Universal Orlando unveiled Raptor Encounter on Friday. It's located at Universal's Islands of Adventure in between Camp Jurassic and the Jurassic Park Discovery Center, or roughly where the old Triceratops Encounter used to be.
The attraction features an jungle-like enclosure complete with jungle noises. Surrounding it is a (fake) 10,000-volt fence, adorned with warning signs. Meanwhile, Jurassic Park employees (including one "raptor wrangler," a la Chris Pratt's character in Jurassic World) mill about reminding guests not to touch or feed the raptors.
Taking selfies and videos, on the other hand, is encouraged, as the attraction is basically a glorified photo opp. But what a photo opp it is. Braver customers can pose right by a gap in the fence, through which the dinosaurs can stick their heads.
According to Behind the Thrills, the raptors are actually "a very cool combination of puppet and man in suit," rather than animatronic robots. The results seem successful. Behind the Thrills reports, "The movement is never clunky, or jerky, but very fluid and very lifelike," and Biz Journals remarks that their reactions feel more "real" than a mechanical raptor's might.
And while my inner child wishes these were real raptors, my inner adult — the one who's seen all the Jurassic Park movies — is relieved they're not. Because as we've learned in every single one of those movies, real dinosaurs aren't to be trifled with.
Check out some photos from the park below via Universal Orlando Resort.