Lionsgate Announces 'Now You See Me 3'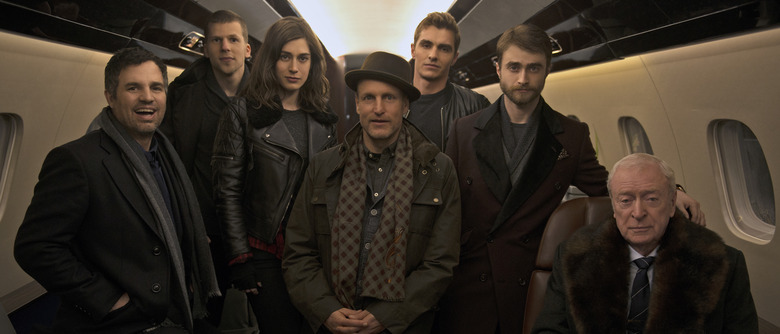 Despite the fact that Now You See Me 2 isn't hitting theaters for another year, Lionsgate is raring to go on Now You See Me 3. The studio confirms it's already entered the "early planning" stages for the threequel, now that Now You See Me 2 has wrapped production. Hit the jump for more about the Now You See Me 3 announcement. 
Lionsgate CEO Jon Feltheimer made the announcement during an earnings call. "We've already begun early planning for Now You See Me 3," he revealed. The new project is framed as part of Lionsgate's strategy to focus on franchises.
The first Now You See Me, directed by Louis Leterrier, opened in summer 2013. Thanks to its intriguing premise, excellent cast, and strong word-of-mouth, it turned out to be a sleeper hit. It grossed $351 million worldwide in total, on a budget of around $80 million. Lionsgate announced a sequel later that same summer.
Jon M. Chu was hired last year to direct Now You See Me: The Second Act, and original stars Jesse Eisenberg, Mark Ruffalo, Woody Harrelson, Isla Fisher, Dave Franco, Morgan Freeman, and Michael Caine were brought back to reprise their roles. New cast members include Lizzy Caplan and Daniel Radcliffe, and Ed Solomon and Pete Chiarelli wrote the script.Now You See Me: The Second Act began shooting in late 2014, and is scheduled to arrive in theaters June 10, 2016. Feltheimer told analysts he believes the sequel will outgross even its predecessor.
Details on Now You See Me 3 are unsurprisingly scarce. No director, writer, or stars have been announced, and no plot information has been revealed. Presumably that stuff will come later, once Lionsgate sees how the next Now You See Me actually fares in theaters. Until then, though, here's what you can expect from Now You See Me: The Second Act:
One year after outwitting the FBI and winning the public's adulation with their mind-bending spectacles, the Four Horsemen resurface in NOW YOU SEE ME 2 only to find themselves face to face with a new enemy who enlists them to pull off their most dangerous heist yet.