'Sicario' Clip: Josh Brolin Gets Heated With Emily Blunt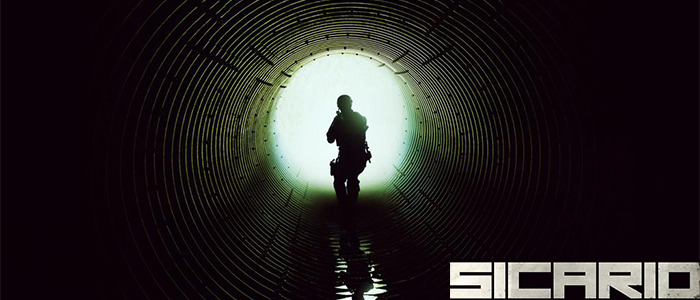 We're seeing more of Sicario, the new film from Denis Villeneuve, very slowly. There were a few images, then a poster. And if you want to know more about the film, there are quite a few reviews floating around from the film's Cannes premiere. Now there's also a Sicario clip, and while we wait for the film's official trailer, it's a good first taste of the work by Emily Blunt, Benicio del Toro, and Josh Brolin, playing a set of government consultants and agents who form an uneasy alliance to fight one battle in the war on drugs.
Thanks to ExtraBeurre for pointing out this clip. It comes in the middle of a much longer video about the film. We haven't seen this clip out on its own, so we've queued the embed below to the starting point.
I love how this clip shows a very blunt aesthetic approach to capturing the environment in which we find these characters.
Given that Roger Deakins shot this film — his second collaboration with Denis Villeneuve, following Prisoners and which led to their third pairing, for Blade Runner 2 — you might expect something more overtly impressive. But Deakins' fame comes not only from his ability to find beauty in unlikely places, but from his finely honed storytelling skills.
Indeed, way these shots are dressed and constructed shows us an organization dedicated to function above all else, and which does not waste resources on something so frivolous as presentation. I'm eager to see more.
Sicario will be released in the US on September 18.
In Mexico, Sicario means hitman. In the lawless border area stretching between the U.S. and Mexico, an idealistic FBI agent is enlisted by an elite government task force official to aid in the escalating war against drugs. Led by an enigmatic consultant with a questionable past, the team sets out on a clandestine journey forcing Kate to question everything that she believes in order to survive.