VOTD: 'Star Wars: The Force Awakens' Takes Over Disney's 'World Of Color'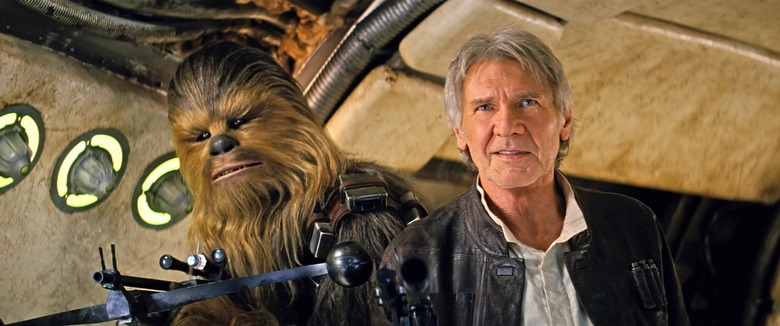 The 60th Anniversary of Disneyland kicks off this weekend with a ton of great events. We covered a bunch of them here, but one we didn't was the updated World of Color. World of Color is an elaborate show that takes place at Disney's California Adventure, and combines music and effects with projections displayed on a wall of water. It's probably the most impressive nighttime event Disney does at any of their parks on either coast. For the 60th anniversary, they've updated the show with more of the history and future of Disney which, of course, includes Star Wars.
In including Star Wars in the new World of Color, Disney has gone one step further and included footage from Star Wars: The Force Awakens in the show. There's nothing new, but if seeing footage from the first two trailers projected on water with music and live physical effects sounds cool, you're going to want to click below. There, fans who can't make it to Disneyland to see a video of the Star Wars World of Color Segment. 
Thanks to Inside the Magic for this great video.
Force Awakens Star Wars World of Color Segment
And if you want to watch the entire show, it's here.
Here's some more info on World of Color. What do you think of the clip?
World of Color is an outdoor, 28-minute nighttime spectacular show. This show features projected film clips on an immense water screen in Paradise Bay at Disney California Adventure Park.
As unforgettable scenes from family-favorite Disney and Disney•Pixar animated and live-action movies stream across the screen, you'll be inspired to reminisce about romances, look back at past friendships and relive remarkable adventures.
The World of Color show—the most impressive and fanciful nighttime extravaganza Disney has ever produced—is accompanied by momentous music, and also includes fantastic fire, fountain, fog and laser effects.
World of Color Is Big!
To create the approximately 19,000 square-foot projection screen, nearly 1,200 fountains shoot water 200 feet into the air. Watch as water dances and pyrotechnics explode!
Be wowed at how all the elements are woven into a kaleidoscope of imagination. Be awed as this sensational show sweeps and expands across the water at Paradise Bay.
And be carried away by the soaring soundtrack that spans decades of Disney movies—from classics to the most recent releases.
Exciting Updates and a New Show
On occasion, updates and changes are made to the World of Color show to include projected clips of popular characters from current movies, like Merida from the Disney•Pixar movie Brave.