'Pawn Sacrifice' Poster Will Have You Concerned For Tobey Maguire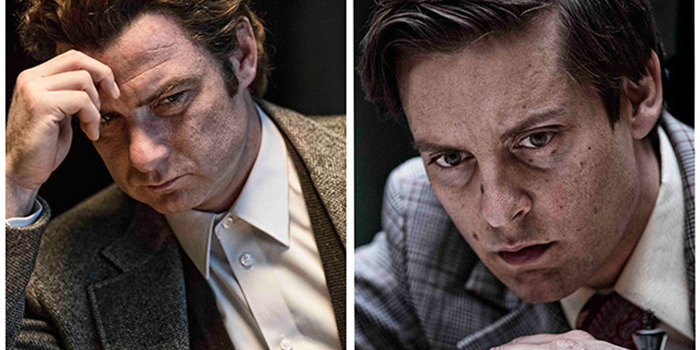 Tobey Maguire plays chess champion Bobby Fischer in the film Pawn Sacrifice, directed by The Last Samurai helmer Ed Zwick. The first real trailer for the film should arrive shortly, given that we've got a poster, but for now we'll have to stick with this debut one-sheet. Fortunately it's a great image, with Maguire front and center, looking intense and somewhat unhealthy. See the image below. 
Thanks to EW for the poster.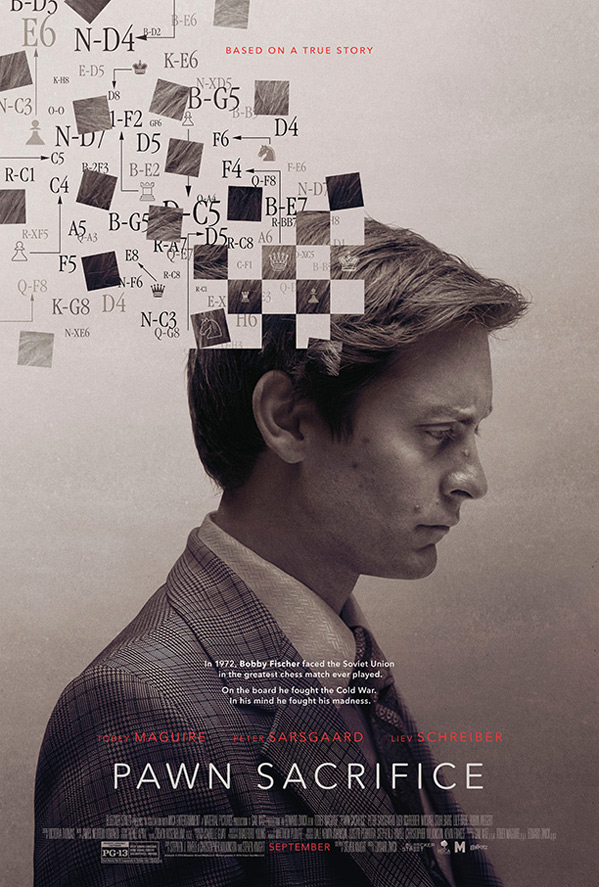 The film looks at Fischer as he faced off against his Russian rival, Boris Spassky (Liev Schreiber) in a 1972 tournament that became representative of the Cold War stand-off between United States and the Soviet Union. At the same time, Fischer started to lose hold of himself — this was before his precipitous decline and disappearance from the public eye, but even at this point he represents a challenging figure to capture on film.
Director Ed Zwick discussed that difficulty with EW:
Obviously, you could evoke Raging Bull, which is an amazing study of someone who you would be hard-pressed to call sympathetic. But listen, more important than being sympathetic is that Fischer would be knowable. And that, in some way, was even harder, because he was introspective, he was self-contained in this way. To me, one of the most moving parts of the story is how isolated he was and how alienated he was, even in the midst of this international spotlight. The question was, Could we understand him? That would certainly open the door for a compassionate perspective.
Pawn Sacrifice premiered last year at TIFF, and the fest had this to say about the film.
It was dubbed "The Match of the Century," and it drew more worldwide interest than any chess match before or since. The 1972 World Chess Championship between American challenger Bobby Fischer and the USSR's defending champion Boris Spassky would for several weeks turn a chessboard in Reykjavik into a battlefield of Cold War one-upmanship. Pawn Sacrifice doesn't just give us a front row seat at this high-stakes event. It ushers us behind the scenes and lets us peer into the psyches of its participants.
The Soviet Chess School had long held a monopoly on the game, and Spassky (Liev Schreiber) was considered invincible — but if anyone was a contender, it was the phenomenon Fischer (Tobey Maguire). He became the world's youngest chess grandmaster at fifteen; at twenty he won the US Championship, achieving the only perfect score in its history. He lived only for chess, but his mastery would become overshadowed by his eccentricities and controversial outbursts.
Pawn Sacrifice surveys Fischer's deteriorating mental state over the course of the summer of '72, as his paranoia surges and his mania for maintaining focus becomes so acute that he demands all cameras be removed from the playing space because their noise is too distracting.