Watch: Bill Murray Opens Up For Final David Letterman Appearance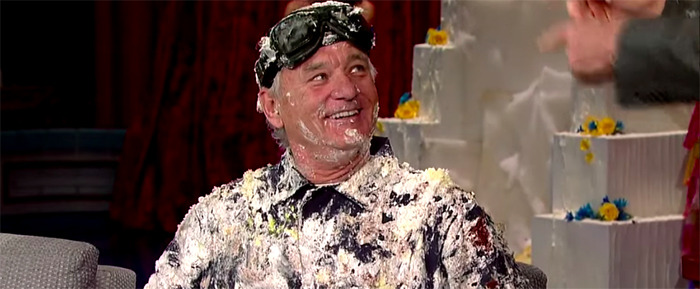 Any long-time viewer has their own personal favorite moment from David Letterman's 30-year career in late night TV, and quite a few of those memories probably involve Bill Murray. The actor was Letterman's first guest in both incarnations of his show, and has sat down for many other interviews with the host.
Last night, for Letterman's next-to-last episode of The Late Show, Murray jumped out of a cake before settling in for the interview while covered with cake and frosting which he smeared all over the chairs and Letterman himself. (Thus creating a proper bookend bit of vandalism to match his first appearance at the Ed Sullivan theater, when he spray-painted "Dave" on the front of Letterman's desk.) Then they drank vodka, and lots of it.
The conversation featured a highlight reel culled from Murray's many appearances on Dave's shows, and some talk about the actor's long career. Watch it all below.
Here's the official Late Show embed of the cake bit:
And the highlight reel:
Here's a non-official embed of the entire interview, which will hopefully stay up for a while. You'll see Murray more relaxed and genial than he usually is during an interview — while there's some performance here there's also a great deal of genuine friendship — and even get some talk about the process of making Caddyshack. That's a subject of which Murray has to be thoroughly tired, but for Letterman he opens up.