Exclusive: Tom Whalen's 'Back To The Future' Mondo Poster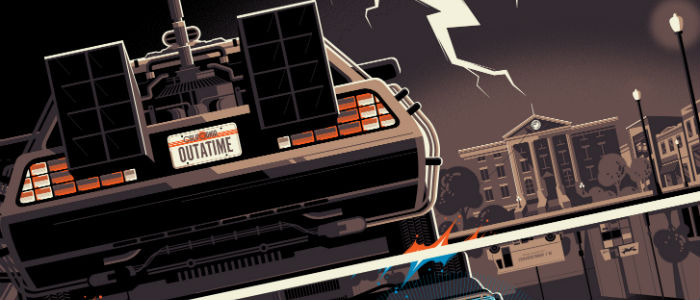 Friday May 22 is one of those great days to be a pop culture art collector. In Los Angeles, Gallery 1988 has Joshua Budich's Fictional Food as well as Hero Complex's Craig Drake Solo Show II. Then in Austin, the Mondo Gallery is opening Pulp Menagerie, a solo exhibit by one of our favorite artists, Tom Whalen. We've already run a few images from the ultra-varied show but we can now reveal what's sure to be one of the show's most popular posters. Whalen did a slick, super cool poster for Back to the Future. Check out the full reveal below.
Here's the Tom Whalen Back to the Future print for Pulp Menagerie.
Tom Whalen Back to the Future Mondo Poster
NOTE: It's one image, but I've flipped it so you can see it on both ways. Click to see the image bigger.
The poster is a 24 x 18 inch screenprint in an edition of 325. It'll first be available at the show's opening from 7-10 p.m. May 22 at 4115 Guadalupe St., in Austin. It'll remain on display through June 6 and be followed by the Jurassic Park show, When Dinosaurs Rules the Earth.
Here are a few more posters in Pulp Menagerie:
So what exactly does Pulp Menagerie mean? Here's Mondo's description:
Pulp Menagerie will feature original screen prints by the incredibly talented artist Tom Whalen. The term "Pulp Menagerie" speaks to the varied subject matter on exhibit. The pieces are akin to the diverse, exotic creatures and curiosities that were captured, groomed and showcased in the royal menageries of the middle ages. Also featured will be some truly unique in-gallery visuals that ascend the theme to a new dimension!
Since the poster is debuting at the gallery show, there's only a small chance it makes it online. It'll first be available to people who go to the gallery. Follow @MondoNews to see if it goes on sale to the public.