Star Wars Bits: ILM History, Force Awakens Costumes, Video Gameplay, Hasbro Toys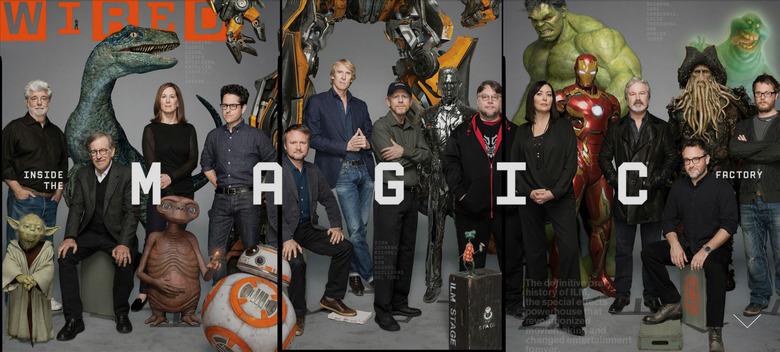 Star Wars Bits is back with a good hodgepodge of the past, present and future. Below, read about the following:
The Star Wars Episode VIII script makes the cover of Wired, along with George Lucas, Kathleen Kennedy, J.J. Abrams and Rian Johnson.
See a new photo of Oscar Isaac dressed as Poe Dameron.
Hasbro officially announced a Star Wars panel for San Diego Comic-Con.
More of the Michael Arndt controversy is described in the Vanity Fair Star Wars article.
You'll see Star Wars Battlefront gameplay at E3, but you can see Disney Infinity gameplay now.
The costume designer of The Force Awakens talks redesigning Stormtroopers and dressing Luke, Leia and Han.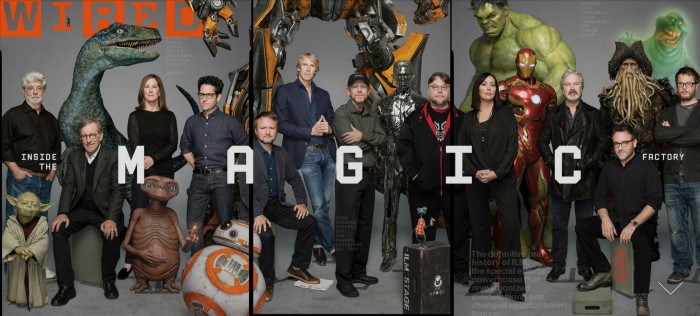 Wired has posted an oral history of Industrial Light and Magic, which is fascinating and has a lot of information on Star Wars including The Phantom Menace and The Force Awakens. One of the coolest tidbits is on the multipage cover which features George Lucas, Kathleen Kennedy, J.J. Abrams and Rian Johnson. Johnson is standing on a script for Star Wars Episode VIII. Click the above link to read the full article.Making Star Wars found a new image of Oscar Isaac dressed as Poe Dameron. It was taken on the set of The Force Awakens and might be an alternate costume for the pilot, or it's just the dressed down version of this image. Hit the link for more. (Below is an officially-released shot from Celebration. This new one is different.)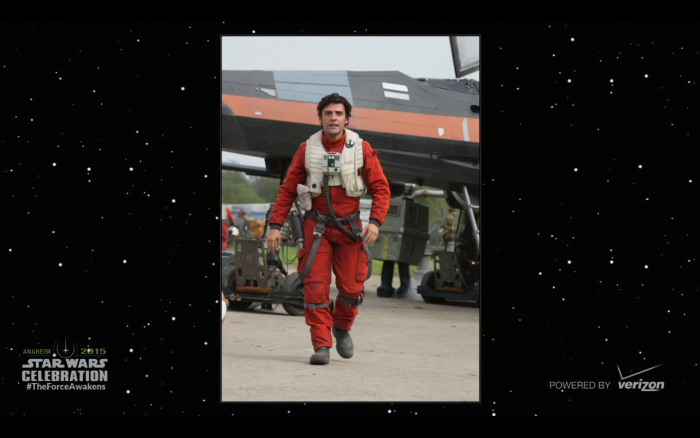 We're pretty sure that Star Wars: The Force Awakens will have a big presence at San Diego Comic-Con, and one of the big reveals fans are expecting is the merchandise. Specifically, the Hasbro toys. And if that is going to happen, odds are it'll happen at the Hasbro Star Wars panel Friday July 10 @ 12:00pm in Room 7AB, as announced by the official Hasbro Twitter account.
The full Star Wars Vanity Fair article is now online and there are a few new tidbits in there. J.J. Abrams and Lawrence Kasdan wrote the script via iPhone, John Williams loves what he's seen of the movie, Han Solo's evolution and a bit more about Michael Arndt. Arndt, of course, was the first screenwriter on The Force Awakens who was then replaced by Abrams and Kasdan. Here's the excerpt, head to the link to read the full thing:
There was still the matter of what would actually happen on-screen. "We were struggling to come up with a story," Kasdan, 66, admitted. "There were elements that we would come up with and say, 'Oh, that's good! That's strong!' But it was not coming together." With Abrams now part of the development team and the already tight summer 2015 release date looming ever closer, Michael Arndt was having difficulty finishing a script within the necessary time frame. "There was a ton of ideas and outlines, a lot of cards on the wall, a lot of writing on whiteboards," Abrams said, but no screenplay.
With pre-production chores already well under way in London, where much of the film would be shot at Pinewood Studios, Abrams and Kasdan took over the screenwriting process, starting more or less from scratch. "We said, Blank page. Page one. What do we desperately want to see?" Abrams told me. Though Abrams said both men had pet ideas from the development process they wanted to incorporate, and did, Kasdan made the process sound like more of a teardown: "We didn't have anything," Kasdan said. "There were a thousand people waiting for answers on things, and you couldn't tell them anything except 'Yeah, that guy's in it.' That was about it. That was really all we knew.
More cool stuff from Making Star Wars. They've got a highly illegal video that was actually shot from the set of The Force Awakens, of filming. How this person got this footage, I have no idea, but you can watch it at the above link. It's mostly spoiler free.
A new blog post from the team behind Star Wars Battlefront confirmed they'll debut gameplay footage at E3 in June. Read the full post here.
However, if you head to Game Informer right now, you can see gameplay footage of the Star Wars characters being added to Disney Infinity.
More Vanity Fair, the site has put up an interview with Michael Kaplan, the costume designer of Star Wars: The Force Awakens. He reveals that nothing was reused from the original trilogy, how they came up with the new sleeker Stormtrooper design, and being new yet recognizable when designing the costumes for Luke, Leia and Han.