New 'Pixels' Trailer: Kevin James Kills A Smurf As Video Game Champions Unite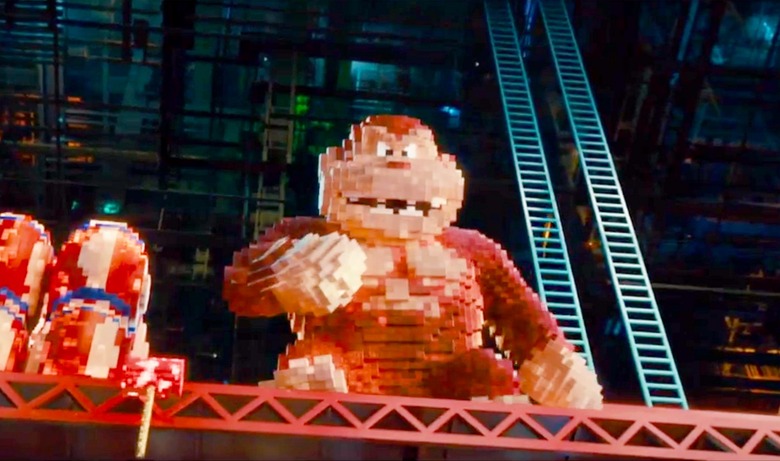 By now, you probably know if you're going to see Pixels or not. Directed by Chris Columbus, the film stars Adam Sandler, Peter Dinklage, Josh Gad, Kevin James and Michelle Monaghan as former video game champions who are asked to save the world when real life video game characters invade Earth. Think Independence Day starring the cast of The King of Kong.
If you still aren't sure and are hoping for some new nugget to get excited about in this second Pixels trailer, it's probably not going to do it. There is some new footage in here, including a bit with Kevin James killing a Smurf, as well as some background on the characters, but for the most part its the same few set pieces as the last trailer. The optimist in me is hoping Sony is simply holding back lots of other moments for the theater, but that tends not to be the case with the films of James and Sandler. Watch the new Pixels trailer below.
Thanks to Sony for the video.
New Pixels Trailer
I like seeing some of the non-video game stuff in this trailer, like the backstories of the characters, but am still holding out hope for more. As we keep seeing the same Pac-Man scene over and over again you have to wonder, is this the best they've got? If it isn't, and Columbus surprises us in the theater, Pixels could be one of the summer's biggest surprises. You've got to give the director of Home Alone and Harry Potter and the Sorcerer's Stone the benefit of the doubt, right?
Pixels opens July 24.
As kids in the 1980s, Sam Brenner (Adam Sandler), Will Cooper (Kevin James), Ludlow Lamonsoff (Josh Gad), and Eddie "The Fire Blaster" Plant (Peter Dinklage) saved the world thousands of times – at 25 cents a game in the video arcades. Now, they're going to have to do it for real. In Pixels, when intergalactic aliens discover video feeds of classic arcade games and misinterpret them as a declaration of war, they attack the Earth, using the video games as the models for their assaults — and now-U.S. President Cooper must call on his old-school arcade friends to save the world from being destroyed by PAC-MAN, Donkey Kong, Galaga, Centipede, and Space Invaders. Joining them is Lt. Col. Violet Van Patten (Michelle Monaghan), a specialist supplying the arcaders with unique weapons to fight the aliens.