Chris Pratt Addresses Those 'Indiana Jones' And 'Ghostbusters' Rumors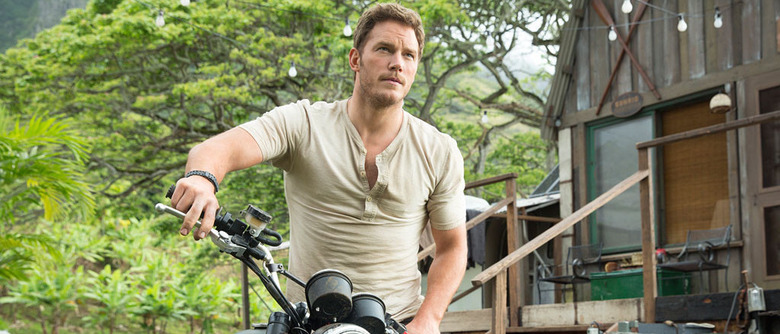 It seems like Chris Pratt is up for every major franchise these days, from Indiana Jones to Ghostbusters. But the operative word there might be "seems." Pratt himself has now addressed those rumors, and the long and short of it is, well, don't believe everything you read on the Internet. (Except this, I guess.) Get the Chris Pratt Ghostbusters and Indiana Jones quotes after the jump. 
First, the Indiana Jones rumor. Early this year, word got around that Disney wanted to revive the franchise with Pratt playing the swashbuckling archaeologist. Pratt denied those stories to the press, insisting, "No one's called me." But in a recent interview with GQ, he acknowledges he did hear about it at some point. To quote the article:
The truth, as far as he is concerned, is that someone high up at Disney did mention to him a while back that they were picking up the rights to Indiana Jones, to which Pratt commented that his action-adventure card was fairly full.
So Pratt was really approached by Indiana Jones, it seems, though it doesn't sound like he got as far as a serious offer. In any case, it's definitely too early to count him in right now. Pratt says Steven Spielberg, who produced Jurassic World, didn't offer any insight into the matter either: "I just didn't bring it up and he didn't bring it up, so I don't know."
As for Ghostbusters, Pratt was rumored to be starring in a spinoff produced by (and also starring) Channing Tatum. But he claims there's no truth to that whatsoever:
No one has ever even spoken to me about that. Never. I've even seen Channing a couple times. As far as I know, that's complete bullshit.
And while he's at it, he can cross one more off the list too: "Knight Rider—bullshit. All of them."
Of course, actors lie all the time. Even if Pratt is set for Indiana Jones and Ghostbusters, he might not be willing or able to reveal it to the press just yet. But I'm inclined to believe him.
Plans for Indiana Jones 5 are still kind of vague, so there's no reason to believe casting would have been locked in already. Ghostbusters is on firmer ground, but Pratt's involvement never sounded solid. And as he points out, his schedule is pretty packed as it is. For now, it looks like we'll have to settle for enjoying Pratt in Jurassic World, Guardians of the Galaxy 2, The Magnificent Seven...