Cool Stuff: Joshua Budich's 'Fictional Food' Art Show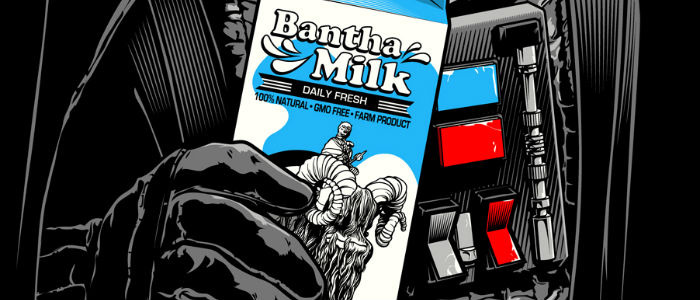 Whether you're a human, animal, alien, cartoon, hobbit, robot or something else, one thing links almost every single character in pop culture: food. We all need something to keep us going, give us energy and maybe be the object of a joke. Some of these pop culture food items can even be as popular as the characters themselves, like the Wonka chocolate Bar, pink Simpsons donut or Pac Man cherries. Fictional Food is everywhere, and it is also the name and subject of Joshua Budich's solo exhibit opening Friday May 22 at Gallery 1988 West in Los Angeles, CA.
It'll consist of 36 small screenprints of fictional food from stories such as Lost, The Simpsons, The Legend of Zelda, and Toy Story, as well as six larger pieces. Below, check out just a hint of the show as well as an exclusive Star Wars piece you'll only find previewed here on /Film.
Fictional Food runs from 7-10 p.m. May 22 and then regular business hours trough June 6 at Gallery 1988 West, 7308
Melrose Ave., Los Angeles, CA. Here's some of the work.
Joshua Budich Fictional Food
Again, the small singles are 6 x 6 inches and will cost $10 apiece. There are 36 images total. The bigger ones, like Homer, Hurley, and Darth Vader, are 18 x 24 inches and cost $40. There are six of those, making 42 pieces in total. All remaining prints after the opening weekend will be on sale Monday, May 25 at www.gallery1988.com
When asked about the inspiration behind this series, which Budich began a few years back at a previous Gallery 1988 show, the artist said the following:
My inspiration for a lot of these comes from what I loved as a child, and of course nowadays, more so for what my kids love; Pixar, Marvel, Disney... I started with making a huge list of potential pieces and just narrowed down to what i really loved and thought others would respond to. Ultimately, I imagine people hanging these in the nooks and  crannies of their kitchens.