Knotts' New Ride 'Voyage To The Iron Reef' Is 'Transformers' Meets 'Toy Story Mania'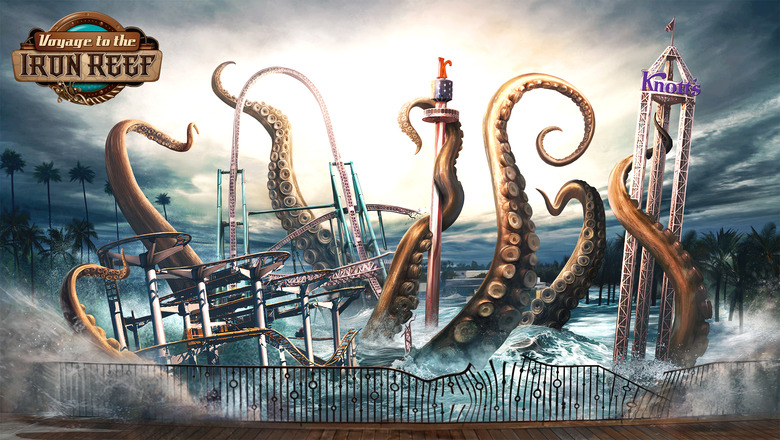 I've always considered myself somewhat of a theme park and amusement park connoisseur, but at heart I'm a Disneyland fanatic. I've been a Disneyland annual passholder for as long as I've lived in Southern California. I've also had a Universal Hollywood annual pass a couple times, and have frequented their fantastic Halloween Horror Nights. But for whatever reason, I've never been to Knott's Berry Farm, outside of eating at Mrs. Knott's Fried Chicken Restaurant which sits right outside the park. Why? I'm not sure. Maybe its that friends have never seemed interested, and going to theme parks is for me a group experience. It might actually be that I'm a Disney snob and always looked at the park as some kind of small kiddie park. But it is also probably because I've never seen photos of a ride that got me interested enough to go there, until last week.
Knott's Berry Farm's newest attraction Voyage to the Iron Reef launched last week and the photos of the ride caught my attention. It didn't look like another repurposed amusement attraction — it looked like a modern technologically-enhanced interactive dark ride akin to what we see from Disney and Universal. So I took a trip to Buena Park, California to encounter the Iron Reef myself. Read my Voyage to the Iron Reef review after the jump.
First off, I want to say how wrong I was to judge Knotts Berry Farm just from photos alone. Sure its a small park, but it offers a great deal of handcrafted charm, especially in the older Ghost Town land. I especially enjoyed the more Disney-like attractions such as the Calico Mine Ride, Timber Mountain Log Ride and the newer Bigfoot Rapids.
And while Knotts can't compete with Disney's southern California offerings, I was surprised at their value. I was really shocked to learn that Knott' annual passes started at just $86. That's less than a one-day/one-park ticket at Disney. The Disneyland Premium Annual Pass is now almost $800 a year, and while cheaper passes are available, they have black out days.
And for $266 you get parking, as well as a meal plan which gives you lunch and dinner each time you visit. (I'd love it if Disney would offer a similar dining plan.) On the other side of the coin, while the passes and tickets are a huge value I found that food and concessions were often more expensive than Disney or Universal — so if you ever go, you can expect to pay more once you get in the park.
On to my Voyage To The Iron Reef...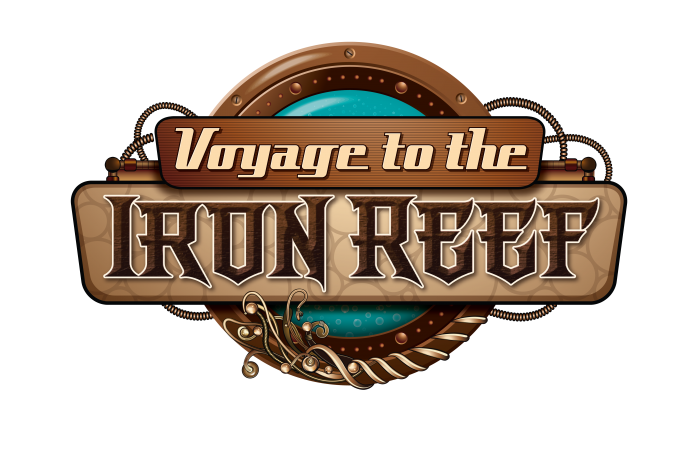 Located in the Boardwalk area of the park, Voyage To The Iron Reef is an interactive 4D dark ride which takes riders on a journey under the sea and through an aim-and-shoot style game which takes place on 11 huge projection screens. The story and theming is very thin, as riders are enlisted on a quest to save the theme park from mechanical underwater creatures who plan on harvesting the metal from the supports of Knott's many steel roller coasters.
The steampunk-styled adventure involves you shooting the monsters and confronting the evil Kraken Queen to hopefully save the park and earn the best score. This is interesting because most of these interactive rides I've encountered in the past have been purely competitive, but this one adds a cooperative element with your team (family or friends) working to beat the game together. But, yes, at the end there is a score and the highest scoring member of the team wins.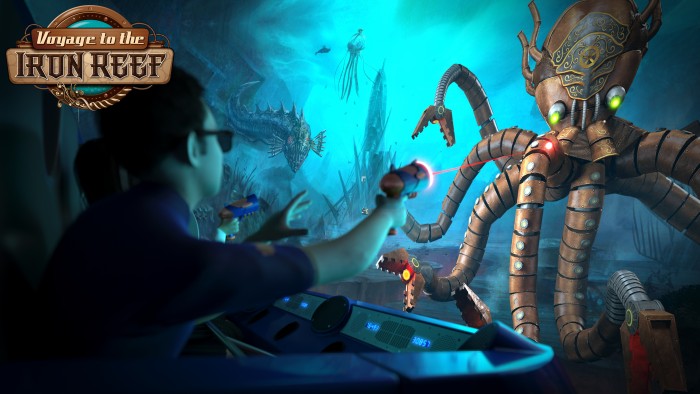 The best way I could describe the ride is if Toy Story Mania from Disney California Adventure and Universal Studio's Transformers: The Ride had a child. The transport vehicle brings you from screen to screen, but these aren't small displays like Midway Mania, but huge projections that almost cover your complete field of view, as with Transformers.
Knotts knows it has something in common with competitive offerings, but brags that the attraction is "the only interactive 4D ride in the dense So Cal theme park marketplace featuring an entirely original story and characters." Good for them.
The longest screen in the attraction is almost 70 feet long and 13 feet high. And because of the epic scale of the projections, the 3D effects seem to surround you in a way I've never seen before. Even though the animations might not be as polished as Disney or Universal, the effect is spectacular and totally immersive.
I would have loved to ride Iron Reef again but it being opening weekend the line was insanely long. I think we waited 75 minutes to get on the ride, which is like 65 minutes more than any other ride we did that day at Knotts.The theme park claims they can have 800 riders an hour on the attraction, but it seemed slower than that on opening weekend. It will be interesting to see how long the lines are for this ride once the grand opening excitement cools down.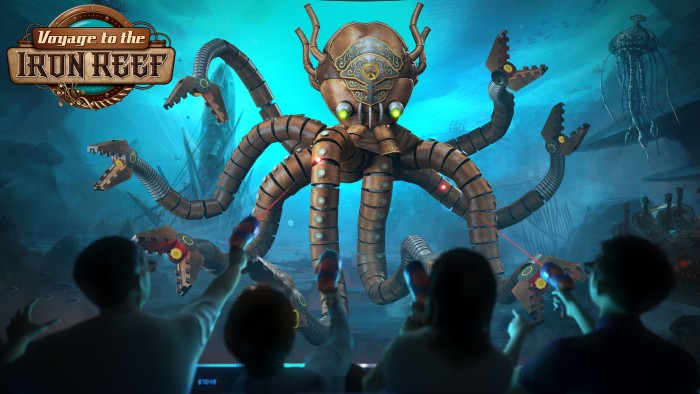 VOYAGE TO THE IRON REEF™ FACT SHEET
By The Numbers:
Track Length: 600 Ft (183.2 M)
Approx. Ride Area: 18,040 Sq. Ft.
Ride Duration: 4 minutes
Number of Trains: 8 trains
Number of Carts per Train: 2 carts per train
Number of Riders per Cart: 4 riders per cart
Number of Riders per Train: 8 riders per train
Riders Per Hour: 800
Number of Screens: 11 screens total; 10 interactive screens
Number of Projectors: 44 high definition projectors
Size of Longest Screen: 69 x 13 sq. ft.
Total Pixels: 2.3 million
Height Requirement: Riders must be 46 inches tall to ride or accompanied by a supervising companion
Fun Facts:
The network cable that powers the screens is long enough to wrap around the Hollywood sign 85 times
Blast hidden medallions throughout the ride to score higher points
Easter eggs of various iconic treasures from Knott's past are hidden throughout the ride and interact with the blast of a freeze ray (Hint: Look for the famous Roaring 20s sign!)
Look for the hidden Snoopy in the all new ride dock mural
Iron Reef is newest interactive 4-D ride on the West Coast and the only interactive 4D ride in the dense So Cal theme park marketplace featuring an entirely original story and characters