More Details Revealed On Martin Scorsese And Kenneth Branagh's 'Macbeth'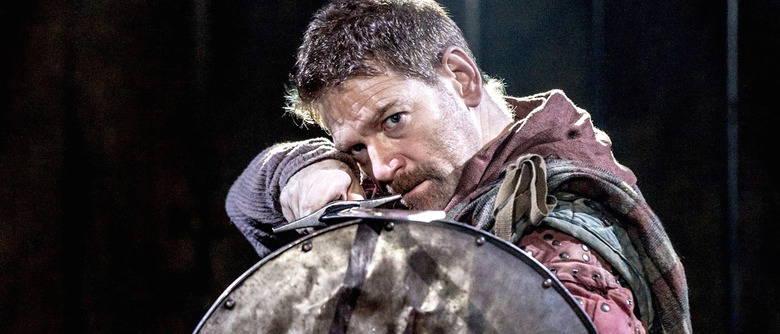 Martin Scorsese is tackling William Shakespeare by way of Kenneth Branagh. Earlier this year, word begin to spread that Scorsese was looking to direct a film adaptation of Branagh's Macbeth stage production. Now some interesting new details have emerged as the project moves forward. Get the latest on the Martin Scorsese Macbeth movie after the jump. The Telegraph has the latest on Scorsese's Macbeth. The good news is that this movie actually happening, with plans to shoot at the Second World War Leavesden Aerodrome in the U.K. However, it won't be a narrative feature based on the Shakespeare play, but a documentary following Branagh and his actors through several weeks of performances.
Branagh's Macbeth premiered at the 2013 Manchester International Festival and was staged again last year at the Park Avenue Armory in New York, where it caught Scorsese's eye. The highly praised production is described as an immersive experience which puts the audience right in the midst of the action.
The hope is to bring back as much of the original cast as possible for the movie, including Alex Kingston (Doctor Who) as Lady Macbeth. As of now, however, it sounds like Branagh is the only actor firmly attached. He'll reprise his role from the stage production as the titular antihero.
The news is a little bit disappointing, if only because we would've loved to see what Scorsese could do with the Bard. Instead, we'll be seeing through Scorsese's lens what Branagh can do with him, which still sounds like a good time.
We can probably expect something along the lines of Scorsese's other documentaries and concert films, like Shine a Light. And there'll be plenty of room for Scorsese to make his mark on the project. Branagh explained earlier this year, "To some extent the invitation is for the maestro to do what he will with this, to be very impressionistic with it and very abstract."
No start date for Macbeth has been announced. Presumably it'll happen sometime after Scorsese is finished with Silence, which opens late this year or next year.