Rumor: Lex Luthor Will Armor Up For 'Batman V Superman: Dawn Of Justice'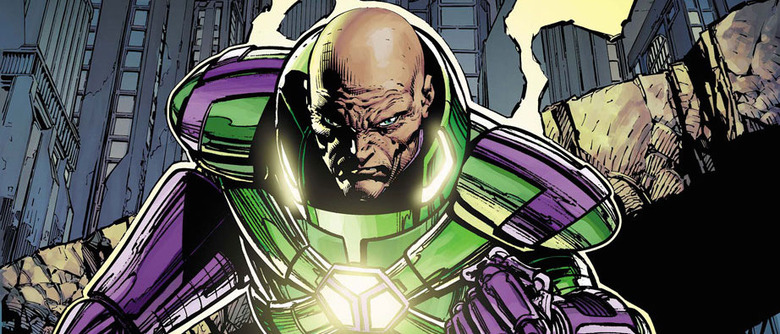 Our first, and so far only official look at Lex Luthor in Batman v Superman: Dawn of Justice revealed that Jesse Eisenberg would be sporting the character's classic chrome dome. But it didn't reveal much else. We still don't know how exactly he'll fit into the story, or even what the rest of him will look like.
Now, however, a juicy new rumor suggests Eisenberg's Lex will be borrowing some other aspects of the character's comic book appearance as well — namely, his purple and green warsuit. Read all about the Lex Luthor warsuit rumor after the jump. 
JoBlo is the source of the Batman v Superman Lex Luthor warsuit rumor, having heard about the costume through "a very trusted and reliable source." Director Zack Snyder hasn't said much about this version of Lex Luthor, other than a vague promise that he'll be different:
He's not any of the Lexes that you've seen, that's for sure. Other than him being a captain of industry and one person to the world and another person to himself. And bald, of course. Our Lex is disarming and he's not fake. He says what he believes and he says what's on his mind. If you can unravel the string and decipher what he means, it's all there.
There's no mention there of a warsuit, but it would definitely set this Lex Luthor apart from others. Although the character has been sporting a green and purple armor for a long time in the comics and animated adaptations, he's never put it on for a live-action production.
According to JoBlo, the warsuit "will be very much like the many variations we've seen in the past and will obviously fit the style and look of the film (and DCCU films in general)," which I'm guessing means it's going to be dark, gritty purple and dark, gritty green. Their sources did not confirm how Lex Luthor creates or gets ahold of the suit.
Also unclear is when, and how much, Lex will be wearing the suit. However, the fact that he'll be wearing it suggests he's in for a showdown with Superman, which in turn indicates we're getting a more physical, action-ready version of the character than we have in the past. Assuming the Lex Luthor warsuit rumor is true, that is. As of now, Warner Bros. / DC hasn't confirmed anything.