See 12 New Photos From The Upcoming 'Muppets' TV Show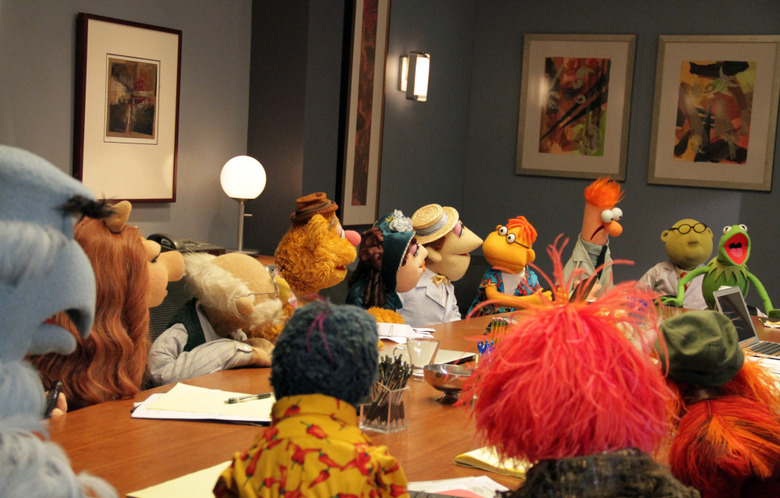 Out of all the big TV news that came out of network upfronts, the official pick up of a new Muppets TV show was certainly among the top stories. The fact we're going to get a primetime Muppets show with slightly more adult themes that explores the backstory of the characters is interesting; the show has the potential to hit a lot of perfect notes. The first trailer definitely showed that promise. Now, adding to the trailer, the official Disney blog posted 12 new photos from the show that reveal some more minor characters and fun situations we'll see when the new Muppets TV show airs this fall.
Here are the new photos from the Disney Insider. Click on each to see it in Hi-Res.
Images: Muppets TV Show 2015
From the photos, and the trailer, you really get the push of the behind the scenes, making of vibe in this show. You also see lots of Muppets that are from the lower tiers, which is great, because then fans can get an expanded view of this world while also spending time with their favorite  big characters – Kermit, Piggy, Gonzo, Fozzy etc.
Also, in case you missed it, here's the trailer for the show, which very much makes it look like an homage to The Office. There's also even more examples of the behind the scenes shenanigans that'll happen on the show as well as the level of adult humor they're going for.
The Muppets TV show will air Tuesdays this Fall on ABC. It's written and executive produced by Bill Prady and Bob Kushell. Randall Einhorn directed the pilot which shot under the working title Muppets 2015. Here's the official synopsis
The Muppets return to primetime with a contemporary, documentary-style show. For the first time ever, a series will explore the Muppets' personal lives and relationships, both at home and at work, as well as romances, breakups, achievements, disappointments, wants and desires. This is a more adult Muppet show, for "kids" of all ages.