Kathleen Kennedy Talks Boba Fett, And Rey's Fighting Style In 'The Force Awakens'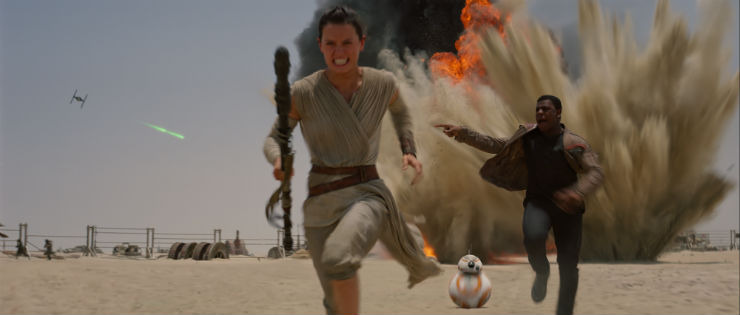 Several weeks back, very soon after Star Wars Celebration, Lucasfilm president Kathleen Kennedy and Force Awakens star Daisy Ridley did a press conference in Japan. We mentioned it on the site, but didn't elaborate further simply because the videos were in Japanese. Now that someone has translated everything said by the two ladies, we know there were a few interesting things said about a galaxy far, far away.
First, Kennedy and Ridley talked about Rey's fighting style in Star Wars: The Force Awakens, which was aided by a choreographer from Game of Thrones. Then there was a tease about the importance of Boba Fett to the Lucasfilm plan. Read the new Star Wars quotes below.
Star Wars 7 News was the site that finally got to the bottom of this, with the help of Kotaku.jp. These aren't exact translations though, more close approximations.
When asked about how they prepared for Force Awakens, Kennedy said the following about Ridley's physical training:
Daisy trained with the swordfight choreographer of Game of Thrones....She learned the bõjutsu fighting style. Rey uses the staff she has in the trailer to fight. Daisy's gotten to be so good at bõjutsu that even grown men on the set fear it. [Laughs]
Bõjutsu is a bo-staff fighting style, which makes sense with the staff you see above. However, you have to wonders if Ridley did some actual sword fighting as well. For Star Wars, that would have an entirely new meaning.
Later in the interview, Kennedy was asked about bringing some old characters back, such as Ewoks or Boba Fett:
Don't worry: Boba Fett is a high priority among our list, please wait. But seeing how the Ewoks could return is a little harder to imagine. It is quite difficult to give the many stars of Star Wars their own stories on film.
This quote was a few days before the news broke that the second Star Wars Anthology film, likely due in 2018, will be a Boba Fett origin film. But now everything seems to match.
What are you more excited about? Rey kicked ass with a staff or a Boba Fett movie?