'Green Room' Clip: Get A Taste Of 'Blue Ruin' Director's Punk Rock Thriller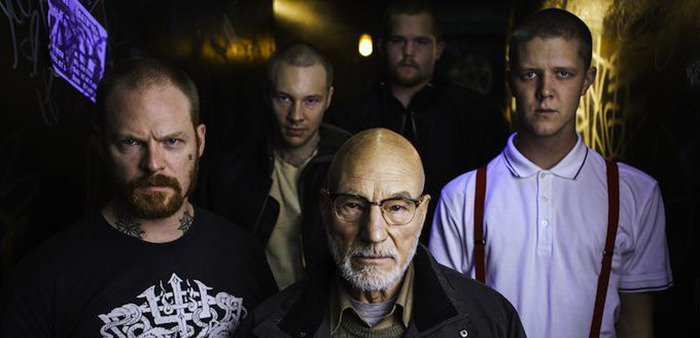 The new film from Blue Ruin director Jeremy Saulnier is called Green Room, and knowledge of the premise and cast was enough to place the film as number two on my "most anticipated of 2015" list, right behind Mad Max: Fury Road. The story features a punk band trapped in a backwater venue after playing an ill-advised gig, and essentially under siege from a racist gang. Patrick Stewart leads the cast as the leader of the bad guys, and Anton Yelchin, Imogen Poots, Alia Shawkat, Joe Cole, Callum Turner, Mark Webber, and Macon Blair all have parts too.
Green Room premiered at Cannes over the weekend to great acclaim, and along with the first review comments we've got an excellent clip from the film.
First up, here's the plot:
Down-on-their-luck punk rockers The Ain't Rights agree to a last-minute gig in a backwoods Oregon roadhouse only to find themselves caught in the crosshairs of a violent white-supremacist gang. After finishing their set in the no-name skinhead club, the band members stumble on a grisly murder scene and are targeted by a ruthless club owner and his henchmen, determined to eliminate all witnesses.
Now let's look at the clip, via Twitch.
While the performances here look good, perhaps the thing I like most about this clip is the attention to detail in the dialogue — "cartridges" rather than "bullets," for example. Films so often treat guns as invented props subject to unreal physical laws, that to hear dialogue that treats a handgun as a real object is kind of a treat.
As for review clips, The Playlist calls it "an exciting, splattery, funny genre movie that somehow never once feels disposable, and one that should prove a midnight movie delight for some time to come," while Twitch says "Green Room starts out as a pretty typical band on the road movie, but quickly transforms into something very, very different... [that] isn't a typical CG blood thriller."
The Film Stage wasn't into the plot or characters, asking a crucial question: "Script plausibility needn't be high on the list of priorities for a horror film, but Green Room tends to take too much advantage of this liberty. A glaring example is the plot development on which the entire premise rests: why would a proudly idealistic left-wing punk band accept to play a gig at a Nazi hangout in the sticks?"
But The Guardian wasn't bothered much by that setup: "Initially, it seems as if Saulnier is, yet again, disguising a derivative thriller as something else with his assured direction and Instagram-filtered style. But this is one of the rare horror films that actually improves as it goes. The familiar setup is lifted by a lack of punch-pulling (unlike many other contemporary horror films, there really are no rules) and Saulnier's ability to take a well-trodden road and fill it with grisly surprises is quite something."
And Variety gives a good overall impression:
U.S. writer-director Jeremy Saulnier continues his grisly journey across the rainbow with the ultraviolent backwoods horror pic "Green Room." Following a young group of punk rockers as they scrape, shoot and slash their way out of an Oregon neo-Nazi group's clutches, this wilfully unpleasant midnight special further demonstrates its helmer's machete-sharp sense of craft, and puts an interestingly matched ensemble — including an outstanding Imogen Poots — gleefully through the wringer.
We don't have full US release info for Green Room at this point, but expect that to hit soon.