Jay Baruchel To Direct 'Goon' Sequel, Titled 'Last Of The Enforcers'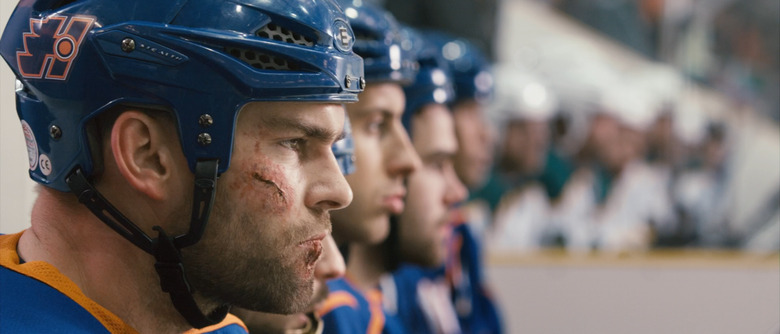 As we proceed through the Stanley Cup playoffs, here's a bit of big news from the world of hockey movies. A sequel to 2011's Goon is finally moving forward.
Titled Goon: Last of the Enforcers, the new film will once again star Seann William Scott as Doug "the Thug" Glatt. Jay Baruchel, who produced, co-wrote, and co-starred in the original Goon, will direct. More details on the Goon sequel after the jump. 
THR reports that in addition to directing, Baruchel will also co-write the film (with Jesse Chabot) and reprise his role from the first film as Doug's best friend Pat. Evan Goldberg, who scripted Goon with Baruchel, will executive produce.
The new film marks Baruchel's feature directing debut, although he's done TV (Trailer Park Boys) and short film (Edgar and Jane) before.
The first Goon, directed by Michael Dowse, followed Doug as he is recruited to serve as an enforcer on a minor league hockey team. Goon: Last of the Enforcers sees Doug and his team, the Halifax Highlanders, joining several new players in a pro hockey lockout.
The original film was a minor hit, both with general audiences and with critics. What made it special was its emphasis on heart. Sweet, simple Doug had a puppyish appeal, and it was hard not to root for him. Here's hoping Baruchel, Chabot, Scott, and the rest of the team are able to recreate that magic with Goon: Last of the Enforcers.
As an actor, Baruchel is best known for starring in comedies like This Is the End, Tropic Thunder, and Knocked Up, and for voicing Hiccup in the two How to Train Your Dragon movies. He currently stars on the FXX comedy Man Seeking Woman, and will be seen later this month in Cameron Crowe's Aloha.
Shooting on Goon: Last of the Enforcers will begin this summer in Toronto.