'Manglehorn' Trailer: Al Pacino Wants To Start Fresh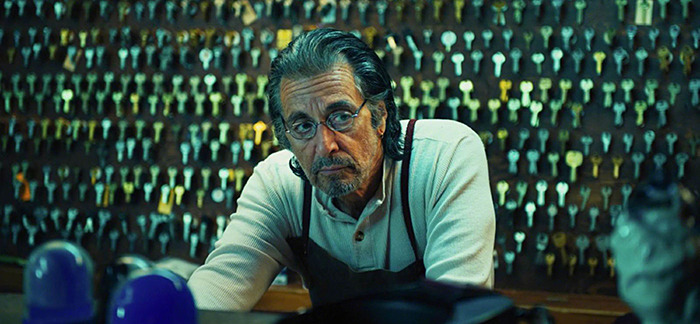 David Gordon Green is back this year with Manglehorn, a bittersweet drama about a cranky and lonely dude who starts to realize that maybe he doesn't have to be so cranky and lonely anymore. Al Pacino plays the title character. Watch the Manglehorn US trailer after the jump. 
It's not a bad trailer so much as a boring one. The voiceover narration gets old fast, especially when his remarks to the dearly departed Clara are so trite. ("The world's changed so much, and I've been around for so many years." Yeah, those two things are probably related.) And the dialogue isn't much better. "I'm a tough man to be around," Manglehorn observes, as if we hadn't noticed.
Nor does Manglehorn himself seem all that interesting, even if he is played by the great Al Pacino. As far as I can tell, he's just another tedious jerk who expects the universe (including his son, played by Chris Messina, and his love interest, played by Holly Hunter) to revolve around his regrets. The movie is gonna have to work harder than this if it wants me to root for him.
Manglehorn opens June 19.
Reclusive small town locksmith Angelo Manglehorn has never quite recovered from losing the love of his life, Clara. Fixated on her memory, he feels closer to his beloved cat than the people around him and prefers to find comfort in his work and daily routine. Still, he forges on with his tenuous human connections, maintaining intermittent contact with his son, taking misplaced pride in a former protégé gone astray, and establishing a cautious friendship with a kindhearted woman from the local bank. As this solitary man approaches the possibility of new love, he finds himself at a crossroads between remaining consumed by the past and embracing the present. Manglehorn is a movingly humanistic portrait of a man rendered with unsentimental simplicity and idiosyncratic humor.