'Preacher' First Look: Seth Rogen Reveals A Shadowy Image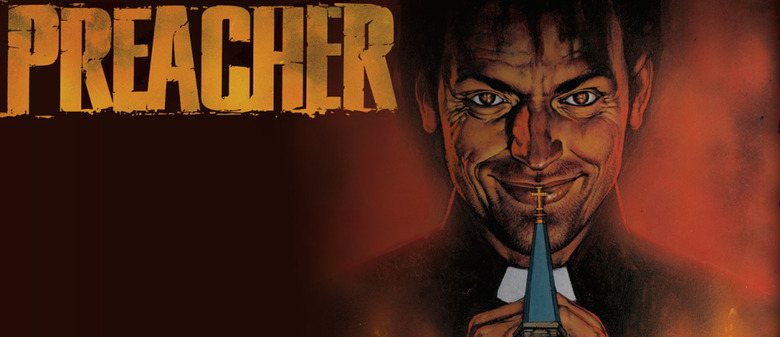 Seth Rogen and Evan Goldberg are rolling on their adaptation of Preacher, which we'll likely see on AMC in 2016. Now Rogen has unveiled the first look at the film, via a shadowed image that seems to feature Dominic Cooper (Agent Carter) as the title character, Jesse Custer, and Ian Colletti (Rake, Jimmy, Baby Mama ) as the troubled young man Arseface. Check it out below.
#Preacher pic.twitter.com/9FTe0OxxqC

— Seth Rogen (@Sethrogen) May 15, 2015
Here's a slightly larger version. I love the set dressing for Arseface's room — he's a kid obsessed with music (specifically, with Nirvana in the original comics) and this room really shows that interest. And the Jack White poster tells us definitively that this isn't a period show that takes place in the '90s, when the Preacher comic series was current. Dig the Longhorn pillowcase, too. Texas!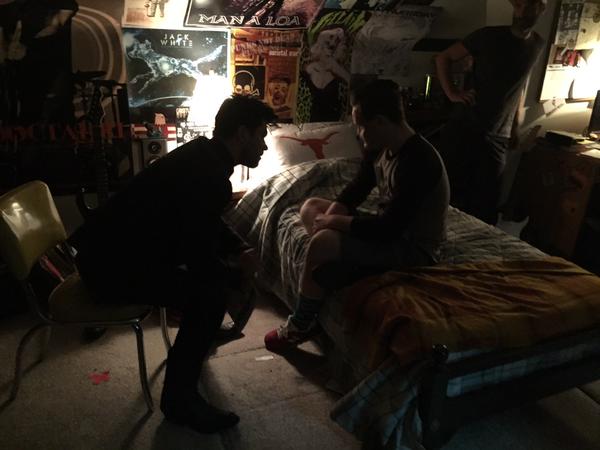 Rogen and Goldberg scripted and are directing the pilot. The show is based on the comic series by Garth Ennis and Steve Dillon's beloved '90s comic. Sam Catlin (Breaking Bad) is showrunner.
In addition to Cooper and Colette, the primary cast features Joseph Gilgun (This Is England) as Irish vampire Cassidy, and Ruth Negga (Agents of S.H.I.E.L.D.) as Jesse's ex-girlfriend Tulip.
Based on Garth Ennis and Steve Dillon's twisted '90s comic book series, "Preacher" is about Jesse Custer, a conflicted Preacher in a small Texas town who merges with a creature that has escaped from heaven and develops the ability to make anyone do anything he says. Along with his ex-girlfriend, Tulip, and an Irish vampire named Cassidy, the three embark on a journey to literally find God.