Kate Beckinsale Returning For 'Underworld 5'; Anna Foerster To Direct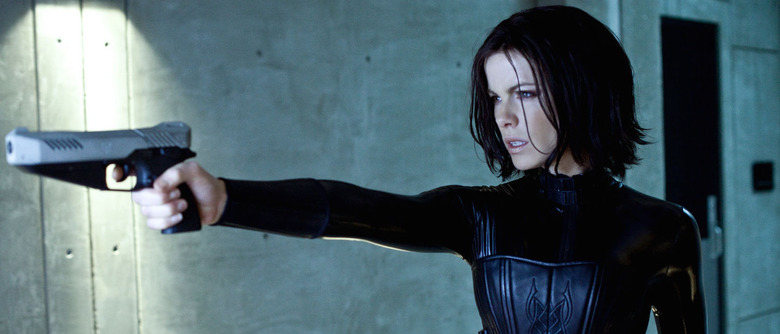 Kate Beckinsale is heading back down to the Underworld franchise. She's just signed on to reprise her role as Selene for the upcoming fifth installment of the action-horror series, which will be directed by Anna Foerster. Hit the jump for more details on the Kate Beckinsale Underworld 5 return. THR reported on the Kate Beckinsale Underworld 5 casting. Beckinsale joins Theo James, who's attached to return as David from 2012's Underworld: Awakening. The script by Cory Goodman "is said to focus on a new and younger generation of vampires and werewolves who are locked in a seemingly never-ending battle between supernatural races."
The Beckinsale news is a bit surprising because we heard last year that she planned to sit out Underworld 5, and that the film would focus instead on James' character David. But she was probably bound to return eventually anyway. A few months ago we learned a second Underworld movie was in the works, and that Beckinsale could return for that one. If Selene fits into Underworld 5, why wait?
As for Underworld 5's other recent hire, it's a first for both the franchise and its new director. Foerster will be the first woman to direct an Underworld movie, following a man parade consisting of Len Wiseman, Patrick Tatopoulos, and Måns Mårlind and Björn Stein.
And Underworld 5 will be Foerster's first-ever feature as a director, though she has helmed episodes of TV shows like Outlander, Criminal Minds, and Unforgettable. She's also worked closely with Roland Emmerich, serving as the director of photography on White House Down and Anonymous and the second-unit director on 10,000 BC and The Day After Tomorrow.
It's unclear whether Beckinsale's return for Underworld 5 means that other Underworld movie has been scrapped, or how it might affect the Underworld TV show that's also in development. In the meantime, though, Underworld 5 is expected to shoot this fall in Prague. No release date has been set.