Cool Stuff: Mad Max Posters From Mondo, King Kong Poster From Dark Hall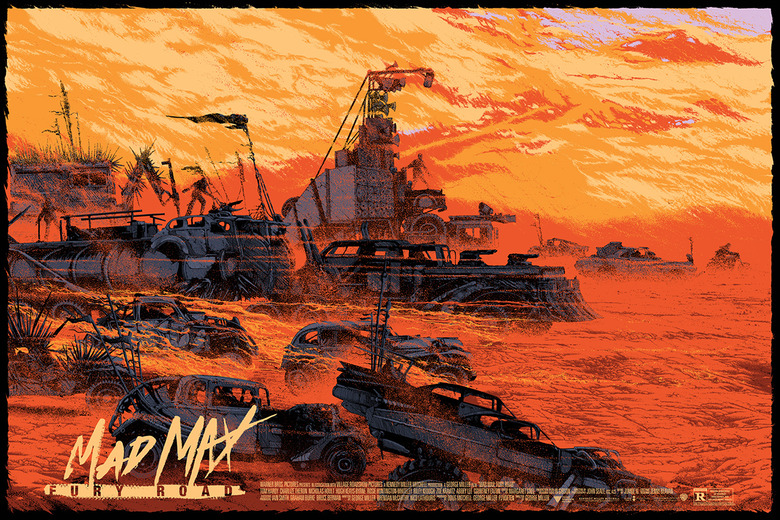 Friday brings the release of a bunch of very cool pop culture posters. Mondo has two different posters for Mad Max: Fury Road, one by Killian Eng and the other by Boneface. Then over at Dark Hall Mansion, they have a stunning poster for King Kong by Nicolas Delort. Check them all out below.
First up, here are the Mondo Mad Max posters
Mondo Mad Max Posters
The first one, by Killian Eng, is a 36"x24" screen print in an edition of 375. It's $50. The second by Boneface is a 18"x24" screen print in an edition of 275. It costs $45. Those will go on sale today at @MondoNews.
Also on sale are multiple different versions of the film's soundtrack on Vinyl. Read all about it at this link.
Then DHM will put on sale multiple versions of King Kong by Nicolas Delort at 9:30 a.m. PST at DarkHallMansion.com. Here are the images.
There are four versions as follows:
"KING KONG" Standard Edition of 280 on foil $70
"KING KONG" Variant Edition  of  70 on foil $100
"KING KONG" Canvas Edition of 10 (based on B&W artwork) $250
"KING KONG" Canvas Edition of 10 (exclusive Lavender color scheme) $250
And here are all the details specifics:
Dark Hall Mansion is proud to reveal its latest entry in the DHM Seminal Film Series of limited edition print releases, 1933's classic, "King Kong," by artist Nicolas Delort and on sale Friday, May 15th!Dark Hall Mansion, under license from Warner Bros. Entertainment Consumer Products, has invited leading artist, Nicolas Delort, to take on one of the most influential and groundbreaking of cinema's early classics. Informed by Willis O'Brien's legendary stop-motion animation, "King Kong" smashed records on opening at Radio City Music Hall in 1933 and has never looked back since. Its impact shaping generations of filmmakers is undeniable, yet it is Kong's pathos that forever registers in the hearts of fans. Far from some simple brute, the power and tenderness Kong so eloquently expresses plays out in pioneering and arresting close-ups that still resonate with viewers to this day, Kong's ending as heartbreaking as it is unforgettable.Nicolas Delort's expressed vision for his piece was, from the start, to tell Kong's tale, organically, to see him in his own domain, the world Kong inhabits. Taking the viewer right to Skull Island, Nicolas' piece is as much about this mysterious world as it is about Kong himself, and nowhere is this more evocative than in his striking rendering of a cavernous skull and its weeping waterfalls. Nicolas' "King Kong" print beautifully ties back, mid, and foreground, the native's massive gates at rear, Kong's engaged prehistoric battle, and finally, Carl Denham's camera quietly piercing the jungle, placing the viewer right with the intrepid film crew as it first comes upon the majestic ape. As always, Nicolas brings his striking detail work to bear and compliment his composition and story, while elegant finishing touches, such as his title treatment, herald what's to come in New York and further showcases his skills.In a very special surprise for fans, ALL Standard and Variant Nicolas Delort "King Kong" editions will be screen printed on foil, inclusive of metallic ink highlights. There will be a Standard B&W 5-color (2 colors being metallic) screen printed foil edition, and a Variant Sepia-toned 5-color (2 colors being metallic) screen printed foil edition, both measuring 20" x 30," and all editions hand-numbered. There will also be two select, giclee printed canvas editions, one with Nicolas' unique and moody lavender color scheme, the other based on Nicolas' original B&W vision.