'Teenage Mutant Ninja Turtles 2' Finds A Bebop In Gary Anthony Williams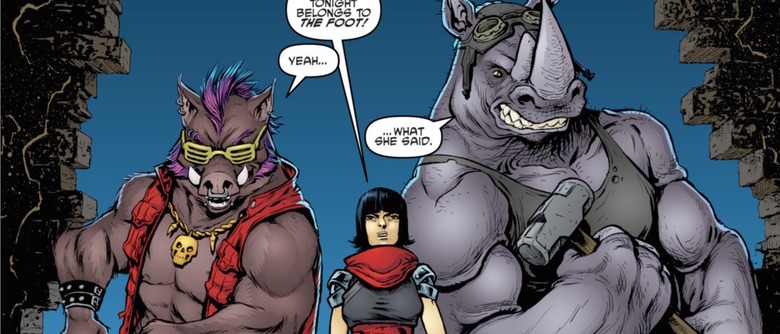 We heard Bebop and Rocksteady would be joining the party for Teenage Mutant Ninja Turtles 2, and now one-half of the idiot duo has finally been set. Gary Anthony Williams will play Bebop, a mutated warthog who serves as one of Shredder's henchmen. Now he just needs to find himself a Rockseady. More details on the Teenage Mutant Ninja Turtles 2 Bebop casting after the jump. 
Deadline reported the news. It sounds like we'll get an origin story of sorts for the classic Turtles villain. We'll first see him in Teenage Mutant Ninja Turtles 2 as "a punk street thug member of a ragtag gang of misfits who acts as if he's intellectually superior, but isn't." Eventually, we presume, he'll be mutated into the horrifying warthog-human combination that we know and love today.
Bebop and his literal partner in crime Rocksteady were initially planned to appear in the first Teenage Mutant Ninja Turtles film. There was even concept art drawn up. But they got cut as the script underwent revisions, so they're making their first big-screen appearance here. Rumor has it Myles Humphus could play Rocksteady, but take it with a grain of salt.
Williams is known for his appearances on Malcolm in the Middle and Boston Legal, and for voicing Uncle Ruckus on Cartoon Network's The Boondocks. His movie roles include The Internship, Harold and Kumar Go to White Castle, and Undercover Brother.
Teenage Mutant Ninja Turtles 2 stars Megan Fox as April O'Neil, Will Arnett as Vernon Fenwick, Stephen Amell as Casey Jones, Tyler Perry as Baxter Stockman, and Brian Tee as Shredder. David Green is directing from a script by Josh Appelbaum and André Nemec. Michael Bay is producing along with Brad Fuller and Andrew Form.
Shooting on Teenage Mutant Ninja Turtles 2 is underway now. Paramount will release the action sequel on June 3, 2016.