'The Simpsons' Are Turned Into Monsters In 'Rick And Morty' Couch Gag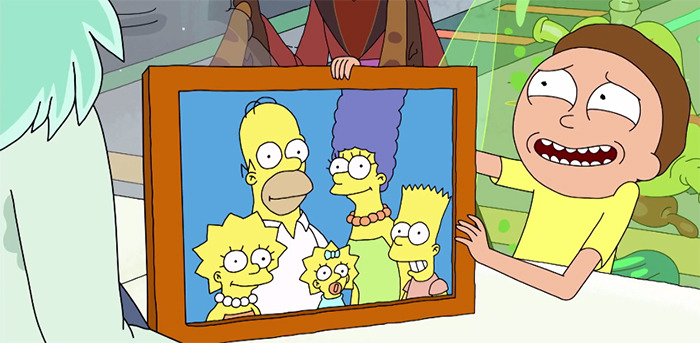 I joked a few days ago about how one of the only reasons people seem to watch The Simpsons lately is the occasional use of guest artists for a couch gag opening. And now Rick and Morty, the show created by Justin Roiland and Dan Harmon (which also happens to be one of the best, funniest, and sickest animated shows ever to air on television) has invaded The Simpsons and, yep, I love it.
This Rick and Morty Simpsons couch gag is somehow not even as messed up as some of the other wild couch gags by artists like Banksy and Don Hertzfeldt, but it is a spot-on combination of the two shows. 
Hitfix pointed this out today:
And while Rick and Morty has achieved wonderful infamy with just one season, there is a second season coming soon, with a premiere set for July 26 on Adult Swim.
You already know all you need to know about The Simpsons, but here's info on Rick and Morty:
Rick and Morty is Adult Swim's most scientifically accurate animated comedy. Created by Justin Roiland and Dan Harmon, it catalogues the bizarre misadventures of a bored scientific genius/drunkard and his socially awkward grandson, Morty. Their exploits tend to have unintended consequences for Morty's dysfunctional family, especially his unfailingly mediocre father, Jerry. Watch Rick and Morty battle everything from interdimensional customs agents to Cronenberg monsters now, only at http://AdultSwim.com.