'Lonely Island' Movie Reveals New Plot Details And First Poster; Sarah Silverman Joins Cast [UPDATED]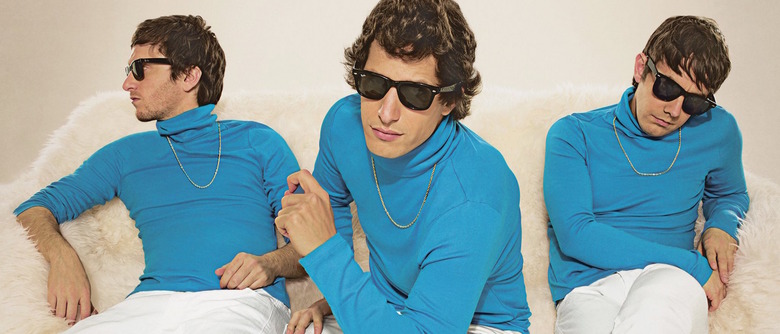 For a musical group that exists as a parody of other musical groups, The Lonely Island has achieved some legitimate success. Their next accomplishment will be Top Secret Untitled Lonely Island Movie, a feature produced by Judd Apatow.
All three Lonely Island members (that's Jorma Taccone, Akiva Schaffer, and Andy Samberg) are starring. Two-thirds of them (Taccone and Schaffer) are directing. As production gets underway, some new details and a funny teaser poster have emerged. Get the latest updates on the Top Secret Untitled Lonely Island Movie after the jump.
Update: Sarah Silverman is joining the Lonely Island gang for their movie. More details on her casting after the jump.
To mark the start of shooting in Los Angeles, Apatow shared the first Top Secret Untitled Lonely Island poster on Twitter.
Production began today (ok, yesterday) on the first film made by @thelonelyisland ! pic.twitter.com/Kww91Xn82E

— Judd Apatow 🇺🇦 (@JuddApatow) May 14, 2015
The official press release reveals only that the movie will take place "in the world of music," but THR has a few more details. According to them, Top Secret Untitled Lonely Island Movie will parody recent music docs like Justin Bieber: Never Say Never and Katy Perry: Part of Me. At the center of the story is a rapper whose latest album has flopped hard. In desperation, he agrees to reunite with his former boy band for a concert.
Update: THR reports Silverman will play a "sharp and sarcastic" publicist who works with the rapper, played by Samberg.
"Not to be hyperbolic, but we are seriously zazzed about this movie," said the band in a statement. Apatow added, "I have begged these fine gentlemen to allow me to produce one of their films since day one, and finally they decided my whining needed to come to an end."
All three Lonely Islanders will produce along with Apatow and Rodney Rothman (Get Him to the Greek). Morgan Sackett (Seinfeld) executive produces, and Brandon Trost (MacGruber, The Interview) will serve as cinematographer.
The members of Lonely Island met in junior high school and have moved through the comedy ranks together. They joined Saturday Night Live in 2005, where they created some of their best known works like "Lazy Sunday," "Dick in a Box" (with Justin Timberlake), "I'm On a Boat" (with T-Pain), "I Just Had Sex" (with Akon), and "Jack Sparrow" (with Michael Bolton).
Both Taccone and Schaffer have prior directing experience. Taccone helmed the comedy cult classic MacGruber, and Schaffer directed Hot Rod (starring Samberg and Taccone) and The Watch. Apatow's latest directorial effort is the Amy Schumer-starring Trainwreck, which opens this summer.
Universal is distributing Top Secret Lonely Island Movie. No release date has been announced, but it looks likely to hit sometime next year.