Sony Remaking '90s Cult Classic 'The Craft' With 'Honeymoon' Director Leigh Janiak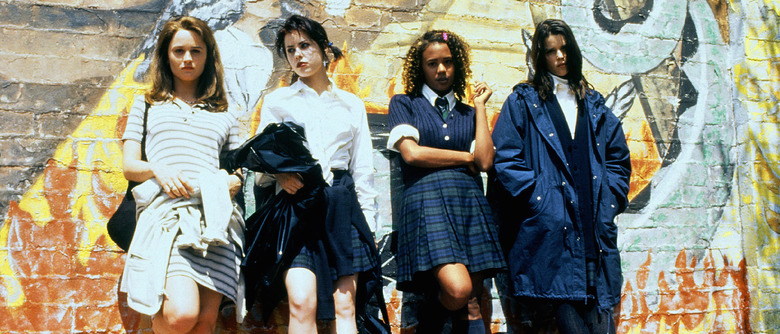 Sony wants to cast a spell on a whole new generation of moviegoers. The studio is cuing up a remake of The Craft, the 1996 horror thriller about a group of teenage outcasts who get involved in witchcraft. But the really good news here is that it's being directed by Leigh Janiak, who made her directorial debut last year with the very creepy Honeymoon.
Get all the details on the The Craft remake after the jump. 
In addition to directing, Janiak will also co-write The Craft remake with her Honeymoon co-writer Phil Graziadei. According to THR, Janiak won the job with her take on The Craft as a female empowerment tale. Doug Wick and Lucy Fisher will produce. Wick was a producer on the original The Craft, while Fisher was vice chairman of distributor Columbia Pictures at the time.
Andrew Fleming co-wrote (with Peter Filardi) and directed the 1996 film, which starred Robin Tunney as a supernaturally gifted girl who befriends three misfit girls at her new school (played by Fairuza Balk, Neve Campbell, and Rachel True). The four girls decide to use witchcraft for personal gain, only to discover that calling upon dark forces has its consequences.
Janiak was working as an assistant to producer Kevin Misher before she made the switch last year to directing. Her first feature, Honeymoon, premiered at SXSW last year. The horror film centered on a couple (Rose Leslie and Harry Treadaway) whose romantic getaway turns into a nightmare.
As far as remakes go, The Craft sounds pretty promising. The original cult classic is a quintessentially '90s film, and was a coming-of-age staple for a generation of kids who didn't quite fit in. But the premise is flexible enough to be updated for 2015. And hey, today's young goths need something to latch onto.
Plus, it's great to hear the studio is going with a female filmmaker for this female-centric story. Janiak seems like a particularly smart choice. What made Honeymoon so effective was its use of genre tropes to tap into real-world fears. Hopefully she'll be able to work the same magic with The Craft.